Dublin Murders star Killian Scott reveals insider details about the much anticipated BBC crime drama
PLUS key facts about the new crime drama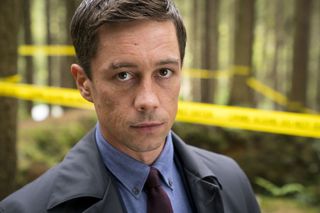 (Image credit: BBC/Euston Films/Starz/Steffan Hill)
Killian Scott reveals interesting details about his new crime thriller, Dublin Murders, and explains why his birth name has caused such confusion.
Tana French's Dublin Murder Squad novels are being brought to life in a new BBC1 crime thriller, Dublin Murders, starring Killian Scott and Sarah Greene. It starts tonight, Monday October the 14th (to find out what else is on tonight, visit our TV guide), and finishes on Tuesday the 5th of November.
The eight-part series is set in the Irish capital in 2006 and centers on English cop, Rob Reilly, played by Ripper Street star Killian Scott, and his Irish detective partner, Cassie Maddox, played by Penny Dreadful's Sarah Greene (opens in new tab). Rob and Cassie are called in when the body of a teenage girl is found in the woods outside Dublin. But the case brings a chilling trauma from Rob's own past to the surface…
Q&A with Dublin Murders star Killian Scott
We caught up with Killian Scott to get the lowdown on his new BBC1 crime thriller Dublin Murders and his surprising birth name…
How do you see Rob and Cassie?
Killian Scott: "There's an outsider quality to both of them. Rob is very competent in his professional choices but he's terribly broken. He's really disturbed and has a destructive obsession. He has been managing to keep up a façade. But the mask is beginning to crumble and intrude on his work."
WHAT IS ON TONIGHT? Check out our NEW and Improved TV Guide
Tell us about the case
KS: "It follows Rob and Cassie as they investigate the murder in 2006. Due to the location of the body, there's a suspicion that it might be connected to a historic case 20 years ago involving kids who disappeared in the same woods. But the discovery of the body is what starts unraveling things for Rob…"
You're Irish but acting in an English accent. How did you find that, especially when everyone else is speaking with an Irish accent?
KS: "It's definitely hard when you're only hearing your own native accent. But it helps with the role and helps me to lose myself. I had a wonderful dialect coach who has worked with Brad Pitt and Daniel Day-Lewis. He was able to keep it consistent and for the first two months of filming I stayed in the accent all the time."
And is it true that your birth name is Cillian Murphy?!
KS: "It's entirely true! I changed the spelling of my first name to a 'K' because [Peaky Blinders star] Cillian Murphy was also working as an actor and I'd get messages from friends going, 'Are you in the new Batman film?!' When Cillian and I met at a film festival in Dublin I told him how I'd go to auditions and they'd be expecting him and be disappointed!"
Dublin Murders begins on Monday 14 October and Tuesday 15 October on BBC1 at 9pm
Dublin Murders: Series Facts
Follow Detective Rob Reilly (played by Killian Scott) and his partner Cassie Maddox (Sarah Greene) as they investigate a child murder in a local woods. Set in 2006, during the height of the Celtic Tiger financial boom of the millennium, the series focuses on two intertwined murder investigations led by two ambitious and charismatic Detectives.
When does Dublin Murders start?
Dublin Murders starts Monday October 14th at 9pm on BBC1.
The second episode airs on Tuesday, October 15th at 9pm.
From then on, episodes air twice weekly, every Monday and Tuesday, on BBC1.
Viewers in Ireland will be able to watch the series from Wednesday, October 16th.
Where to watch Dublin Murders
You can watch Dublin Murders on BBC1 live and by streaming or on catch-up on iPlayer shortly after each episode has aired.
Fans in the US, Canada, Germany, France, Italy and Spain can watch the series via Starzplay from Saturday November 10th.
When does Dublin Murders finish?
There are eight episodes in Dublin Murders, airing every Monday and Tuesday on BBC1. The series is scheduled to finish on Tuesday the 5th of November.
Each episode of the series is 60 minutes in length with no advert breaks.
Is Dublin Murders based on real life?
Dublin Murders is not based on real life events. The TV show is based on a series of books by American-Irish author Tana French about a fictional Dublin Murder Squad. Season 1 of Dublin Murders is an adaption of her first two books, In the Woods and The Likeness. There are 5 books in the series so far. You can buy the books on amazon here. (opens in new tab)
Dublin Murders cast list
As you would expect, Dublin Murders features a predominately Irish cast and characters. Many of the actors are well-known in the UK and Ireland.
Detective Robert 'Rob' Reilly is played by Killian Scott, who despite being Irish, plays the English detective and is one of the series lead characters.
Detective Cassandra 'Cassie' Maddox, is played by Sarah Greene, and she was formerly an undercover officer and is one of the series lead characters.
Detective Frank Mackey in played by Tom Vaughan-Lawlor.
Detective Sam O'Neill, Cassie's love interest, is played by Vikings star Moe Dunford.
Superintendent O'Kelly, is playbed by Conleth Hill, best known for playing Lord Varys in Game of Thrones.
Other cast members in Dublin Murders include:
Justin Mannering played by Charlie Kelly
Abigail "Abby" Stone played by Vanessa Emme
Rosalind Devlin played by Leah McNamara
Phelan played by Ian Kenny
Quigley played by Eugene O'Hare
Damien Donnelly played by Jonny Holden
Jonathan Devlin played by Peter McDonald
Margaret Devlin played by Kathy Monahan
Alannah Shorey played by Ericka Roe
Dublin Murders series 2
There has been no confirmation yet of a second season, but the buzz around Dublin Murders has been extensive. We wouldn't be surprised if Dublin Murders series 2 is commissioned soon, especially as there are more books to adapt.
Get the What to Watch Newsletter
The latest updates, reviews and unmissable series to watch and more!
Caren has been a journalist specializing in TV for almost two decades and is a Senior Features Writer for TV Times, TV & Satellite Week and What's On TV magazines and she also writes for What to Watch.
Over the years, she has spent many a day in a muddy field or an on-set catering bus chatting to numerous stars on location including the likes of Olivia Colman, David Tennant, Suranne Jones, Jamie Dornan, Dame Judi Dench and Sir Derek Jacobi as well as Hollywood actors such as Glenn Close and Kiefer Sutherland.
Caren will happily sit down and watch any kind of telly (well, maybe not sci-fi!), but she particularly loves period dramas like Call the Midwife, Downton Abbey and The Crown and she's also a big fan of juicy crime thrillers from Line of Duty to Poirot.
In her spare time, Caren enjoys going to the cinema and theatre or curling up with a good book.