Lee Mack: 'I'm not a repressed West End star!'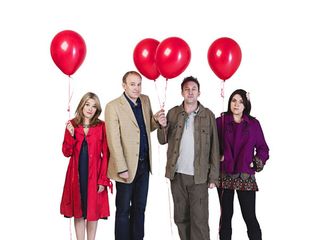 (Image credit: Avalon/BBC/Perou)
As Not Going Out returns to BBC1 on Friday for a fifth series, Lee Mack tells us about singing the theme tune to Minder and writing in his pyjamas... Are you surprised that the sitcom has run for so long? "I'm writing series six now so it's hard to remember what happened in series five. I'm actually still in my pyjamas and haven't been out the house all day. I don't get dressed when I'm writing my sitcom." Can you remind us where the story left off last series? "We had a bit of a Life on Mars thing going on. I was hit by a car and we had a whole episode about me being in a coma and living out my fantasy life with Lucy – having hundreds of kids, getting a job and finally growing up." Is it hard to keep their 'will they/won't they?' relationship going? "Not necessarily, it could be that they are together at the beginning of series six! There is a drunken evening between them at the end of series five so you'll have to wait and see. "The constant theme is that he's always hopeful. I find it difficult saying 'he' because I don't see myself as an actor, so talking in the third person is very odd!" Is the show based on personal experience of going after someone who's unattainable? "Everyone's had that experience at some point in their life, haven't they? It's not based on specific incidents. I didn't live with a landlady who was unattainable. But Lucy is 10 years younger than he is in the show, so I guess she is out of his league. If someone's a bit of a waster and doesn't pay the rent, he's not really a viable option." But he is funny? "Yes, but watching someone cracking jokes is not quite the same as having to live with it. Just ask my wife!" In the first episode, Tim (Tim Vine) joins a band and Lee gets very jealous when Lucy falls for the guitarist... "I got the idea after watching Tim on Comic Relief Does Fame Academy and he was actually quite good. I don't want to give too much away, but Tim and I do sing the theme tune to Minder together. We also sing, I Know Him So Well... but I'm not a repressed West End musical star if that's what you're thinking!" Bobby Ball returns in episode two as your dad. What made you cast him? "I used to love Cannon and Ball and the way Bobby speaks and looks, he doesn't half remind me of my own dad. My dad had a similar tone of voice and that helps massively. Bobby Ball's character is a nice bloke, just a bit misguided. He's there to show Lee how he'll end up if he doesn't mend his ways."
Get the latest updates, reviews and unmissable series to watch and more!
Thank you for signing up to Whattowatch. You will receive a verification email shortly.
There was a problem. Please refresh the page and try again.