Line of Duty boss reveals how many people know H's identity!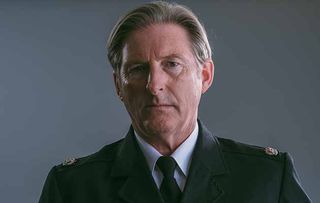 (Image credit: BBC/World Productions Ltd/Aidan)
Warning this story contains Line of Duty spoilers!!
Line of Duty creator Jed Mercurio says that less than a dozen people know the identity of "H", the show's master villain.
Sunday's Line of Duty dropped a string of clues pointing to AC-12 head Ted Hastings being the corrupt copper who's been behind a crimewave going back years.
But Jed told The Mirror that currently only a privileged few actually know who "H" is.
"You will be reassured to know that I do actually know who H is and very few of us do.
"The number of people who genuinely know right now is probably less than a dozen and I'm looking forward to the day when it can be measured in millions. It's something that takes us in interesting places."
In the latest episode of Line of Duty, Ted behaved in an extremely dodgy fashion, including the fact that he was suddenly given a huge load of cash.
However, Jed gave a strong hint that Ted isn't "H". "I think I do write characters that have certain characteristics and one of them is the characters that we are meant to get behind, Ted and all the AC-12 characters who aren't baddies. The characters who believe in doing the right thing. They also believe in facts and evidence."
Jed, then, also appears to be ruling out Ted's AC-12 colleagues, DS Kate Fleming (Vicky McClure) and DS Arnott (Martin Compston).
So, who is "H" in Line of Duty then?
Well, we know "H" is meant to very high up the police force, so could DCC Andrea Wise (Elizabeth Rider) be the villain? She's been seen on and off in the current series and certainly would be ideally placed to mastermind the criminal enterprise. Also, she's kept Hastings in a job, despite the fact that he keeps making mistakes.
Another prime suspect is Supt Alison Powell (Susan Vidler), who sent John Corbett undercover, and who was desperate to stop AC-12 from becoming involved.
And we shouldn't forget no nonsense lawyer Gill Biggeloe (Polly Walker), who acted as legal counsel for AC-12 back in series three. She keeps being seen in this series and she certainly seems more than capable of running a criminal unit!
It might even be someone we've not seen on screen yet or someone who featured in a past series... The mystery continues!
Get the latest updates, reviews and unmissable series to watch and more!
Thank you for signing up to Whattowatch. You will receive a verification email shortly.
There was a problem. Please refresh the page and try again.