Lorraine Kelly: 'To get viewers' seal of approval means a lot in the High Street Fashion Awards'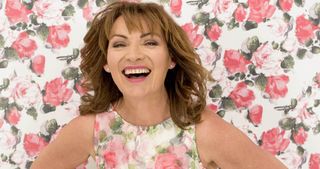 On ITV's Lorraine (opens in new tab) this week, host Lorraine Kelly celebrates our favourite shops and department stores in her annual High Street Fashion Awards.
From Best Curvy Collection to Best Trendsetter, Lorraine's viewers will vote on a shortlist of categories, with the results revealed in a glittering ceremony in London. Here, Lorraine talks flower power, menswear and why she's at her most fashionable in her fifties…
Are you excited about this year's High Street Fashion Awards?
"Oh yes! It started off relatively low-key, you know, and now it's huge! I love the fact that it's all down to the viewers and the panel is only there to comment on what they decide. I think that's why our viewers have become so important to High Street shops because they are actually their customers. To get a seal of approval from them means a lot."
And former Corrie and Strictly Georgia May Foote is on the panel this year, plus there's a brand-new category…
"The lovely Georgia brings a younger, fresher eye on High Street fashion. There are things she would wear that I obviously wouldn't and vice versa, so we cover the whole spectrum, which is terrific.
"We've also got a Best Menswear category for the very first time, which was due to popular demand because a lot of men do watch my show and they like to be stylish, so why not?"
Do you shop on the High Street yourself or do you love labels?
"I'll be honest I don't buy designer clothes; for me, it's all about the High Street. If it's a special occasion, I'll go to Coast, LK Bennett or Ted Baker. If I'm going on holiday and I want to some nice new wee tops, I'll go to Topshop.
"I would much rather stick to the High Street and be able to buy more clothes. You can't fault a beautifully cut skirt from M&S, so why would you spend hundreds, if not thousands, of pounds for one with a designer label? It doesn't make any sense!"
How has your style changed over the years?
"Oh my goodness it's got so much better, but it couldn't have got any worse! My crimes against fashion are there for the entire world to see, and do bear in mind I was on the telly in the 80s and 90s so it was pretty bad!
"I'm 56 now, but when I turned 50, I felt more confident and stylish than ever before and I think it's down to the fact that I'm healthy and feel fitter, which is partly due to the classes I go to with my fitness instructor, Maxine.
"These days I like uncomplicated clothes, well cut, clean lines and not too fussy. I'm a fan of the old faithful pencil skirt with a nice sharp shirt tucked in. After all my work with Maxine, I can actually tuck in my blouses, which is a big deal!"
Do you think women in their fifties should dress differently to twenty-somethings?
"Not at all, however, I had to say bye-bye to my tartan mini skirt with great reluctance when I was 50, but I'll still wear a reasonably short skirt with thick black tights and boots.
"I don't think you should ever put limits on yourself, but nobody wants to look like, bless her, Liz McDonald's character in Coronation Street. I think you should wear whatever suits you and what you're most comfortable with. Never be scared of fashion, though, whatever age or size you are."
Do you think the High Street caters for all ages and sizes?
"It is catering for girls that are a bit bigger nowadays and so it should. We've got models on our show who are a size 16 – and they're goddesses! – because that is the average size in Britain. For me, it's never been about being thin, it's about being healthy. I think were getting over the size-zero trend… well, I hope."
Do you love shopping?
"No, I hate it! I do a SAS-style raid when I need something, but I love going with my daughter, Rosie. She's got such a great sense of style and helps me put an outfit together. I much prefer shopping for her than me."
Do you feel pressure to look good because you're on the telly?
"If you saw me on TV 10 years then no, absolutely not! I know I can't sit there in my nightie, slippers and hair curlers, but I'm lucky because I get a lot more advice now than I ever did before. Rosie helps me, plus Mark [husband] knows what suits me better than I do sometimes. They both tell me to push it a wee bit, not to be so safe and to just go for those crazy shoes. Why not? I like that.
"When I was a kid, you'd have your outfit for best, a couple of other things and that was it. You couldn't afford to experiment because clothes were expensive. I tend to be more casual, like Gap, in real life. But the High Street covers all bases, from cutting-edge, trendy fashion-forward stuff to a mother-of-the-bride outfit. And the main thing is it's affordable."
Who's your style icon?
"Helen Mirren never gets it wrong. I love the fact that she'll wear a D&G dress with a leather jacket to sass it up a bit. I always admire someone who's not a fashion victim, but has their own sense of style.
"We've used a lot of floral patterns for the awards this year, which are really cute, but if the fashion world tells you florals are in, you can just have a wee pair of floral shoes, or a simple flower on a bag. You don't want to be head to toe looking like a rose garden!"
Get the latest updates, reviews and unmissable series to watch and more!
Thank you for signing up to Whattowatch. You will receive a verification email shortly.
There was a problem. Please refresh the page and try again.