Luke Pasqualino on The Musketeers' mischief: 'Tom Burke got trapped on the top of my trailer'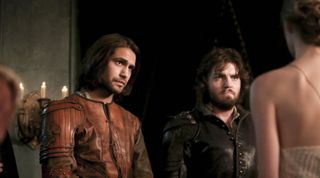 The Musketeers star Luke Pasqualino has revealed some of the high-jinks he and his co-stars used to get up to while working on the hit BBC1 drama.
With the third and final series of the show due to premiere on BBC1 on Saturday, May 28, Luke, who plays d'Artagnan, says he and the other cast members passed the time during lulls in filming by trying to prank each other.
Apparently War and Peace star Tom Burke, who plays Athos, was by far the worst offender, but Luke explained that his pranks didn't always go as planned.
"Tom would always be hiding in my trailer, trying to jump out and surprise me," said Luke (above left, with Tom). "He'd hide for hours in my shower, then realise I'd have three more scenes to shoot and that I wasn't coming back to my trailer for ages.
"I caught him on top of my trailer once. He was trying to scare me through the skylight. I was walking back to my trailer at the end of the day and I saw a figure trying to hide on top of my roof. I could spot him a mile off. I said: 'Yeah you can get down now, how did you get up there?'
"It turns out that he'd climbed up the side of a van and got the driver to drop him on the top of the trailer, so he had to do all that in reverse to get down. I didn't let the van get anywhere near him for a while, so he was trapped up there. It was great."
With The Musketeers coming to an end this year, after three highly successful series, Luke was delighted to leave set with a special memento.
"The stunt boys made us all a nice replica of our swords, which were shipped home," he explained. "I've actually got mine up on my wall.'
Get the latest updates, reviews and unmissable series to watch and more!
Thank you for signing up to Whattowatch. You will receive a verification email shortly.
There was a problem. Please refresh the page and try again.