Man Down's Greg Davies: 'Writing my first comedy was really frightening'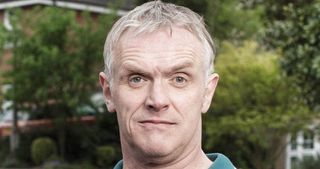 (Image credit: BBC/Rough Cut)
Comedian Greg Davies (opens in new tab) reveals his festive routine, his terror at writing his comedy and his hopes for 2015...
I've been delighted with the response to Man Down… Writing my first comedy was a really frightening thing to do. I was worried about putting my head above the parapet.
Filming the Man Down Christmas special was tinged with sadness… It was so sad to lose Rik Mayall who played my dad on the show. A comedy genius like Rik is irreplaceable, so we haven't replaced him because nobody else could play that role. I feel very privileged that Man Down was the last thing he worked on.
In the Cuckoo special, I get to dress up as Father Christmas… It's something I'd never done before. I have finally broken my Santa virginity.
I largely get together with my family at Christmas… My mother is under the impression that I am still 15. I usually get told off on Christmas morning for having had too much to drink the night before, which when you consider that I am 46 is amazing.
I used to relax at home by wearing a kaftan, but I am bit worried that I have lost it… This Christmas, I certainly won't be in anything more elaborate than jogging bottoms and a T-shirt.
I won't be slaving in the kitchen on Christmas Day… I can't cook. I have seen myself described as a foodie, but that's only because I like stuffing it in my face.
I went to some memorable Christmas parties when I was a teacher… They were like the last days of Rome. A lot of tension builds up in a term teaching kids. I saw more debauchery at school Christmas parties than I ever have done in showbusiness.
My favourite festive song is It's Beginning to Look a Lot Like Christmas by Perry Como… I say that with no sense of shame. I've probably been influenced by my dad's record collection. That was his era.
I'll be watching Professor Branestawm on TV over Christmas… I love anything with Harry Hill in it.
My resolution for 2015 is to perform more stand-up… You can't beat playing in front of a live audience and I'm desperate to get back on stage. The problem is finding the time to write new material. I am currently a stand-up comedian without a single joke.
Cuckoo screens on BBC3 on Christmas Eve; Man Down screens on BBC2 on Tuesday, December 23
Thank you for signing up to Whattowatch. You will receive a verification email shortly.
There was a problem. Please refresh the page and try again.