Nigel Planer on missing his late friend Rik Mayall and his current role in Marcella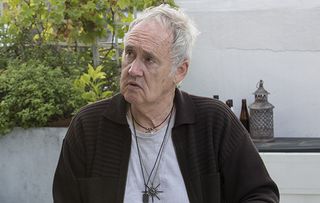 Nigel Planer - pictured in character as Reg - is currently starring in ITV drama Marcella, which continues tonight
Actor Nigel Planer shot to fame in the 80s as hippy Neil in BBC cult comedy, The Young Ones.
Since then he's appeared in countless TV and stage productions including TVs Boomers and Death in Paradise and West End musicals, Chicago, Hairspray and Charlie and The Chocolate Factory.
He's currently starring in ITV's Marcella as Reg Reynolds, a former drummer in successful 1970s rock band, Swiss Coast who owns the flat where the body of missing nine-year-old, Leo's, body was found.
Reg has already come under suspicion along with his friend and band manager, Alan Walker, played by Keith Allen.
Here Nigel Planer, 65, reveals why he loved working with Marcella star Anna Friel, why he's in no rush to do another musical and how he misses his dear friend Rik Mayall, who passed away suddenly in 2014….
WOTV: Your friend and Young Ones co-star Rik Mayall sadly passed away in 2014, aged 56. You must still miss him a lot…
NP: "Oh gosh yes, we all do. It's kind of brought us together a bit though which is nice. I've seen a lot more of Adrian, (Ade Edmondson, who played Vivien), we've worked together much more than we did before, and I see a lot of Peter Richardson now who was our producer on Comic Strip."
WOTV: Has it brought into focus how short life can be?
NP: "Oh yes, very much so, it wasn't just Rik, I lost two of my old school friends in the same year. It was bit of a cull in 2014. You've got to be thankful and grateful for what you've got."
What's On TV: You play a drummer in Marcella. What instruments do you play in real life?
NP: "I play the guitar but I can't play the drums at all. When I heard about the part of Reg I was worried I'd have to play them but in fact that wasn't the case. I think Reg's drumming days are long gone!"
WOTV: What was it like working with Anna Friel?
NP: "We've worked together before when I played her husband in a film called Land Girls. It was just a small part but I've always liked her. She's very spirited, a lot of fun and keeps everyone on their toes. One minute she's light, funny and jokey and the next she'll come out with a performance you weren't expecting. Winning her Emmy for Marcella was very well deserved."
WOTV: You and Keith Allen go back a long way, what was it like being reunited for Marcella?
NP: "It was great. We used to be in the Comic Strip series together and we've also played a pair criminals on the run in a film called Super Grass. I think because we know each other so well and because of our own history together, the history of our characters, Reg and Alan, is all the more believable."
WOTV: You've had such a varied career and been in lots of musicals. Which is your favourite?
NP: "My favourite to watch would be Hairspray. I think it's such a wonderful show and I love it. But being in it was quite tough, there was dancing and lots of stairs to run up and down between scenes. It was physically quite tiring! My favourite to actually be in, that would be a toss up between We Will Rock You and Wicked, they were both brilliant fun."
WOTV: Would you like to do another one?
NP: "Not just at the moment. The last one I did was Charlie and The Chocolate Factory which was marvellous, but again, it was hard work physically – all that dancing. The rest of the time I had to lie in bed with my knees bent. Being tall it was pretty uncomfortable! If a great musical came along then you never know but recently I've really enjoyed doing things like Inside Number Nine, TimeWasters, RatBurger, Death In Paradise. It's been brilliant getting back into telly after Boomers."
WOTV :Do you still get recognized as Neil from the Young Ones
NP: "Yes I do, all the time, although it's less than it used to be. I can go on the Tube now pretty easily but I'd say it's still a couple or three times a day that I notice it. People who are with me say it's much more than that but I think I blank it out a bit."
WOTV: How do you stay fit and healthy?
NP: "I do a lot of walking, a bit of swimming, not as much as I should and I practice Tai Chi. It's a very good discipline, even just doing the breathing, and it's very good for the joints as you get older. In the summer I go outside in the public garden outside our house with my wife, I've roped her into it."
WOTV: How do you relax?
NP: "I love writing and I also write travel pieces and enjoy taking photos. I sometimes do travel pieces for newspapers."
WOTV: Would you like to do a travel show for television?
NP: "Well yes, but I think that sounds more like hard work than relaxing! When you're by yourself you can just do your trip and take notes then write it up later, rather than telly where you've actually got to perform and have cameras following you about."
WOTV: What's in the pipeline for 2018?
NP: "I'm working on a couple of plays. I've got one coming out this month, (March), called the Game of Love And Chai about a modern Asian family living in England, which is on tour."
Marcella continues on ITV, Mondays, 9pm
Rik Mayall pic: David Fisher/REX/Shutterstock
Get the latest updates, reviews and unmissable series to watch and more!
Thank you for signing up to Whattowatch. You will receive a verification email shortly.
There was a problem. Please refresh the page and try again.