'Hollywood can be an awful place to try and make a living!' says Episodes star Matt LeBlanc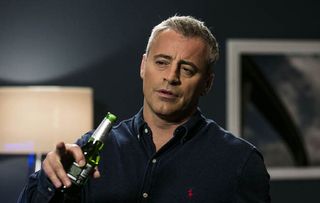 (Image credit: BBC/Hat Trick Productions Ltd/So)
As hit comedy Episodes returns for its final series, star Matt LeBlanc reveals why Hollywood is the perfect place to poke fun at
As comedy series Episodes, set in the behind the scenes world of Hollywood,  returns for its fifth and final series on BBC2, Matt LeBlanc says goodbye to the fictional ego-driven version of himself.
Here Matt LeBlanc, whose character is working as the host of a hit TV game show, tells What's On TV why Hollywood can be an awful place to work and why we Brits are better at getting things done...
What's On TV: What sort of trouble does Matt get himself into this series?
Matt LeBlanc : "I don't want to give too much away but because of the success of game-show, The Box, Matt gets a new deal and he wants Sean and Beverley to develop a new show for him. So we enter into this development phase and it's just a disaster and it's funny from there!"
WOTV: Has Matt evolved as a character since Episodes began?MLB: "No, I don't think he's evolved at all. He's exactly the same as where we started!"
WOTV: Have you ever worried that people will think that you're really like the Episodes version of yourself?
MLB: "I guess it's my job to make him believable so hopefully people think that's exactly what I'm like and then I've done my job correctly!"
WOTV: How do you feel about the show coming to an end?
MLB: "For all of us it has been an honour to say all these words for all these years. It's the bravery that writers David (Crane) and Geoffrey (Klarik) have shown in writing something that's slightly exaggerated here and there, but for the most part right on the money. Hollywood is an awful place to try to make a living sometimes and they've really underlined certain things that are really funny about it. But it's been an incredible experience for me personally. It's been a really fun character for me to play and I can't say enough about the writing – it's been so honest and challenging and laugh out loud funny."
WOTV: Episodes is mainly filmed in the UK. How different is it working here compared with America?MLB: "The process is pretty much the same. I feel like you get more done in every work day here. There's more team effort. But the most common complaint you hear is that you get less food on set!"
WOTV: Is there anything specific you've learned about us Brits?
MLB: "That Brits tend to keep their cards closer to their chests than Americans. We're a little more gung ho, well I am anyway. There's a dryness to the British humour whereas American comedy hits you over the head and tends to insult the audience's intelligence."
WOTV: Do you spend much time with your co-stars Stephen Mangan and Tamsin Greig when you're not filming? MLB: "I live really far away from them, but yeah we've all become really close. It's sort of like an extended family and that's the really sad part for me of the show coming to an end is that I won't get to spend so much time with those guys!"
Episodes Season Five begins on Friday, March 30, BBC2 
Pictures: Hat Trick Productions Ltd, Photographer: Sophie Mutevelian
Get the latest updates, reviews and unmissable series to watch and more!
Thank you for signing up to Whattowatch. You will receive a verification email shortly.
There was a problem. Please refresh the page and try again.