Neil Dudgeon: 'It's like Christmas every day in Midsomer. Unless you get murdered!'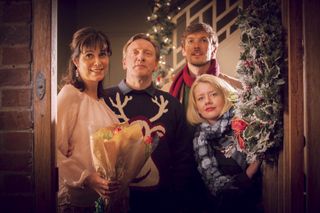 (Image credit: Patrick Redmond +353872600976)
Neil Dudgeon tells TV Times magazine about Midsomer Murders' cracking Christmas Eve episode (ITV, 8pm) and reveals why he loves the season to be jolly...
Tell us about The Christmas Haunting…
"It's very Christmassy – there's snow and I'm sporting a festive jumper! Hilariously, it was filmed in the middle of July. We were all wearing coats, scarves, and going 'Brrr' a lot, and, then, of course, the huge heatwave came along. We were all sweating!"
Lovely... Murder mysteries seem to work particularly well at this time of year...
"Well, that's because Christmas is wonderful but it also makes one want to murder one's nearest and dearest! You see it all enacted before you and you think: 'If only I had a gargoyle, I could go on the roof now, get him in the garden and push the gargoyle!'"
Moving on quickly... how is new boy Gwilym fitting in?
"He's great! Jason's a good friend, so it was sad he left, but he's done Midsomer for years so I completely understand why he wanted to do other things. We saw lots of marvellous people for his replacement, but when Gwilym came in, I thought: 'He seems nice, I hope he's as good as he looks' and he was. He's been fantastic in every way. If I was his age coming into a show like this with someone like me I'd have thought 'It's all a bit freaky'. But he's chatty with all the guest actors and crew, and handles himself well on set. Tell Gwilym that will be £200!"
What does Barnaby make of Nelson?
"In this episode, Barnaby is pretending he doesn't miss Jones, but he's bereft, which makes things difficult for Nelson. But they then find a way of working together and learn to respect each another."
As this tis the season to be jolly, if Barnaby had one Christmas wish what would it be?
"A series of nice juicy murders in a country house hotel, where he's gone with Sarah and Sykes for the holidays. A snowdrift has cut the hotel off from the outside world and Barnaby has to find the murderer before the road is cleared and rescue arrives."
You've thought about that a lot! What gifts would Barnaby like?
"John would like a selection of fine cheeses, a bottle of old port and a Dorothy L Sayers mystery novel."
Do you enjoy the festivities or is it more a case of 'Bah Humbug!'?
"I don't like to do anything Christmassy before 1 December. But then all the seasonal music comes out and it's full on until the first week of January, by which time I just want to live on salad and water for a month."
Describe your perfect Christmas Day...
"Home, family, roaring fire, music, kids, friends, presents and Santa!"
What's your dream dinner?
"I'm quite traditional so turkey, parsnips, sprouts and bread sauce and… oh, just pile it on."
Apart from Midsomer, what else will you be watching?
"I rarely get to choose what is on the TV because of the kids [Joseph, nine, and Greta, seven] and if my mum is staying as well, I certainly won't get a look-in. There's plenty of football, though, so I'll try to watch Match of the Day."
What's your earliest Christmas memory?
"As a boy in Yorkshire tearing up our messages to Santa with my sister and putting them up the chimney. I must have been about 20!"
Are you good at buying presents?
"I like to start shopping in August to give myself plenty of time and then I keep buying things until Christmas Eve when I do the mad panic dash to be sure everyone ends up with far too much stuff!"
Is there a particular present you're hoping to find under the tree?
"I could do with a shed for the garden stuff. But I don't suppose there would be room for that – or for the man who I'll need to build it."
The best present you've given?
"I bought my wife a trip to Venice a few years ago."
What's your top gift ever?
"When I was 10 I got a pair of Puma Pele football boots. That takes a bit of beating."
And finally, thinking ahead to 2014, any plans?
"I'm already looking forward to eating salad and drinking water in the first week of January. Hopefully I'll be going back to film some new Midsomer episodes with the lovely cast and crew I'm so lucky to work with. It's like Christmas every day in Midsomer! Unless you get murdered, of course..."
Get the What to Watch Newsletter
The latest updates, reviews and unmissable series to watch and more!