'A beach bar? In Sri Lanka? With Amanda Redman?' Why Neil Morrissey couldn't say no to Good Karma Hospital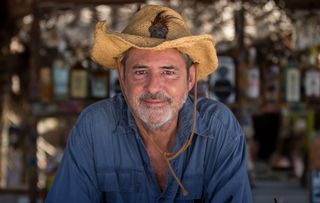 (Image credit: Chris Burgess)
Neil Morrissey provides the perfect remedy for overworked doctors at his bar in ITV's The Good Karma Hospital
Despite the sunny climes, life is a struggle for the devoted staff at the ramshackle Good Karma Hospital in Barco, South India. But a daily dose of R&R at their local beach bar, run by the charming Greg McConnell (Neil Morrissey), is just what the doctor ordered.
We spoke to Grantchester and Line of Duty star Neil, 54, on set in Sri Lanka to find out more about the Good Karma's happy-go-lucky barman…
Greg seems to know everyone in India! "Yes, he's like the local agony aunt. The Good Karma's doctors and nurses all hang out at his bar and they're always offloading on him. He's an upbeat, friendly kind of guy, and has a great attitude towards life. Viewers see the other side of life in Barco at Greg's bar because it's where all the fun stuff happens as opposed to the daily grind and grit of the hospital."
Is he a bit dodgy, though? "Well, he doesn't exactly play by the rules. Greg is slightly nefarious about how he acquires his alcohol because he doesn't like paying the tax on it. You could say he's living on the edge of the law, but not in a villainous way. He's a loveable rogue."
How is his relationship with Dr Fonseca (Amanda Redman)? "While Greg is extremely laid-back, Lydia is strict and strait-laced, yet they're drawn to each other by a powerful force. It's definitely a case of opposites attract! Lydia is always trying to improve every situation, too, but Greg is all about going with the flow."
Why did you want to play Greg? "A beach-bar owner? Filmed in Sri Lanka? Starring with Amanda Redman? Tick, tick, tick! I told the producers there was no one else who could play this part. It was wonderful when I walked on set for my first day and there it was, my bar… However, it was so realistic that tourists were walking up mid-scene wanting beers and asking about happy hour. Sadly, there wasn't a drop of alcohol in the bar, so I'd just say, 'I wish, mate!'"
Are you enjoying playing an amiable rogue after starring in serious dramas such as Line of Duty and The Night Manager? "It's nice to spice things up and take on roles of a different ilk, but it took a long time to shake off the comedic shackles. I've got nothing to complain about, though, I've had a great career, and it's still going strong after 35 years."
What would be a dream role for you? "I'd love to be in Peaky Blinders – I'm one of the only Midlanders they haven't used! And I'd do anything in Game of Thrones. Just cast me as a scraggy priest who gets his head chopped off in the first three minutes. I don't care, I'd do it!"
https://youtu.be/mcsaUQEbkog
The Good Karma Hospital continues on ITV at 9pm
Rebecca has more than 20 years' experience in journalism and is now writing about all things telly-related for TV Times, TV&Satellite Week, What's On TV and whattowatch.com (opens in new tab).
She's interviewed all sorts of big-name stars, including Al Pacino, Ewan McGregor, Tom Hardy, Winona Ryder, Benedict Cumberbatch and more. She's also been known to step in front of the camera, dressing up as a 1920s flapper to star in ITV's Mr Selfridge and co-hosting ITV News at Ten with Mark Austin – all in the line of duty!
When she's not quizzing actors, directors and producers, you'll find her bingeing US dramas and anything horror/sci-fi/zombie-themed. But her greatest love will always be Game of Thrones… just don't mention the ending!
Get the latest updates, reviews and unmissable series to watch and more!
Thank you for signing up to Whattowatch. You will receive a verification email shortly.
There was a problem. Please refresh the page and try again.