Neil Morrissey on his delight at playing a barrister for the first time on TV in Striking Out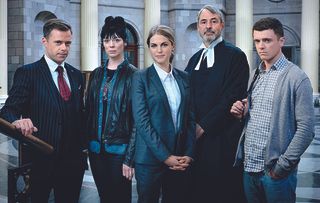 Neil Morrissey's new drama starts on 5SELECT this Thursday (5SELECT is on Freeview channel 54, Sky 175 and Virgin 152)
Neil Morrissey feels like the cat that got the cream playing a legal eagle in gritty courtroom drama Striking Out.
Already a hit in the Republic of Ireland (a second series is currently in production), the series has now been snapped up by Channel 5 and will start on Thursday on new channel 5SELECT - which launches tomorrow (13 February).
Set in contemporary Ireland, Striking Out follows the tumultuous professional and personal life of Dublin-based solicitor, Tara Rafferty (Cold Feet's Amy Huberman).
When Tara discovers that her fiancé and fellow solicitor Eric Dunbar (Rory Keenan) has been cheating on her with a colleague, she ditches him and her job at the prestigious law firm they worked at together to set up her own unconventional private legal firm.
Here Neil Morrissey, 55, who plays Tara's mentor Vincent, tells TV Times more about Striking Out...
Tell us about Vincent…
Neil Morrissey: "He's a great character to play as he's damaged goods. He's a maverick genius and is really good at what he does. He loves people and has a joie de vivre. You don't meet his wife in the series but we assume that things are not good. And he's a slightly hard drinker. It's work hard; play hard. Can't imagine why they thought of me…!"
Does he have a soft spot for Tara?
NM: "100 percent. Whilst it's unobtainable, and he understands that, he can't help wishing he were 30 years younger."
What attracted you to the role?
NM" "Firstly, the fact that he's a barrister, I've never been trusted with one before. A slightly bent cop was as close as I've got. It was also a good opportunity to do a courtroom drama but what I really like is that it's not just about the outcome in the courts, it's also about the characters' personal lives and how that legal world affects them in the real world."
We're looking forward to the second series of ITV's The Good Karma Hospital later this year. Any teasers?
NM: "The hospital is still there and there are problems as always. There's a bit more to-ing and fro-ing with my character Greg and Amanda Redman's Dr Lydia Fonseca. Obviously Greg's a man and he gets in trouble occasionally."
Vincent might be the scruffiest barrister we've ever seen!
NM: "Oh, I know a few scruffy barristers! But it's that thing about a character who looks one way, but behaves in another. Vincent's very smart and sharp in court."
Did you enjoy filming in Dublin?
NM: "My parents are both Irish and I love Dublin and know it really well. I've seen it, done it, and got the t-shirt. But this time I was pretty much on set the whole time. Normally I'm there just to have fun but this was a hard slog!"
Do you watch courtroom dramas?
NM: "We love them in this house. My girlfriend Ems is a trained lawyer so she loves watching them and screaming at the TV when things aren't realistic. She thinks Striking Out is the best thing I've ever done; she loves it."
Any gaps on your CV you'd still like to fill?
NM: "I love a challenge and I feel fairly good about still being around after 36 years. Who knows I might be asked to play a murderer or a villain. Whatever comes in, there's plenty more in the tank…"
Striking Out starts this Thursday at 9.00pm on 5SELECT.
Get the latest updates, reviews and unmissable series to watch and more!
Thank you for signing up to Whattowatch. You will receive a verification email shortly.
There was a problem. Please refresh the page and try again.