New Tricks' Tamzin Outhwaite: 'I'll miss working with the three L's – Lyndhurst, Lawson and Larry'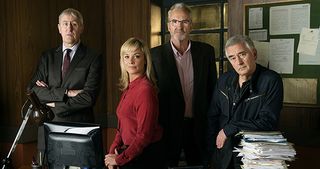 (Image credit: BBC/Headstrong Pictures/Amanda S)
After 12 years of old-school sleuthing, the phenomenally popular BBC1 crime drama New Tricks (Tuesday, August 4) is calling it a day. But before that happens, there's an action-packed 13th series, which begins next week.
TV Times asked Tamzin Outhwaite, who plays UCOS boss Sasha Miller, to tell us more…
What can you tell us about the new series?
"Crime-wise, they investigate everything from a double suicide at a lookalikes' agency, to debauchery at a prestigious cricket club and a lottery syndicate gone wrong. Outside of work, Sasha gets a shot at a date at one point, but she's still cracking the whip with the boys on the team. There's a funny scene where she has them running on a drizzly day and trying to outdo one another in the pedometer stakes!"
Which guest stars have you enjoyed working with this time?
"I've loved working with Tracy-Ann Oberman, who is now a regular as Fiona Kennedy, the forensic pathologist and partner to Danny Griffin [Nicholas Lyndhurst], and we have a fantastic guest casts this run, including my former EastEnders co-star Lucy Benjamin and Lorraine Ashbourne, who were both fun to work with."
What has it been like to say goodbye to Dennis Waterman and his character Gerry?
"It is a wrench for the whole team as Gerry's been a part of the furniture for so long. And Dennis was the last of the original cast, so it was difficult to see him go. It's been wonderful to work with him over the last two years, though; he is a legend on and off set.
"He leaves in the explosive opening double bill when the discovery of a skeleton in a basement shakes him to his core. Dennis was pleased with the way Gerry went, so we hope the fans will like it too."
What has Larry Lamb brought to New Tricks and how does his character, Ted, gel with the others?
"It was a treat to have the lovely Larry soften the blow of Dennis going. I suggested Larry for the role as he's got great comic timing and is a gent; I knew he'd fit in well.
"Sasha has an accident that puts her out of action and when she returns, Ted has taken over and got comfortable in her office, which she's not thrilled about. She thinks Ted is nuts as he has some superstitious rituals, but he comes with a lot of credibility, he's a good detective and has a unique sensitivity to the job so he earns his place on the team."
How do you feel about the series coming to an end?
"It's had an amazing run and has been a huge success, it's rare to have a drama that pushes beyond the 12-year mark so that's something pretty special. But all good things must come to an end; I was just delighted I was able to be a part of it. The fans have been incredible and so supportive the whole way through, so it's nice to give them a series to remember."
Can you tease anything about the finale, will there be any surprises or old faces?
"No old faces, but in the spirit of New Tricks, there are plenty of surprises, and twists and turns. I can't give too much away though."
What would be your dream ending?
"That you would find the whole team on a beach in the Bahamas sipping on pina coladas!"
What was it like filming the final scene?
"The final scene of the series was filmed on the very last day on New Tricks and that hardly ever happens. It was just great to film with all the boys together for one last time and it felt special."
Did you have a big goodbye party and give each other leaving presents?
"We said our goodbyes on the day, it was emotional because we'd built up strong bonds together. Nicholas Lyndhurst [who plays Danny Griffin] bought me a fabulous Fortnum & Mason hamper that I've already used!"
Did you take any souvenirs from set?
"I took a couple of Sasha's lovely coats, but I stopped short of carrying my desk and chair out."
What have you loved about your time on New Tricks?
"I loved the character of Sasha, it's not often you get to see a strong, driven woman who has been through an awful lot but uses it to spur herself on, rather than letting it hold her back.
"Personally, I'll miss the people, chatting with the girls in the make-up truck, having lunch with the boys and finishing off their food! Oh and working alongside the three L's – Lyndhurst, Lawson and Larry!"
Why do you think viewers have taken New Tricks to their hearts?
"Because it's warm, funny and there's always an intriguing whodunit each week. Plus, viewers have been on a long journey with the cast and they have a special relationship with them and they see we're all mates in real life so when we're all bouncing off one another on screen, they know we're not just pretending."
What reaction have you had on the street from viewers now that it is ending?
"People often say how sad it is and how much they've enjoyed and grown up with the show over the years. The reaction on Twitter has been great as well; we've had lots of messages of support, which have made us feel really loved."
What's next for you?
"Just taking time out and enjoying time with my girls [Florence, seven, and Marnie, three], friends and family. I've worked pretty solidly for 20 years and I don't want to look back on these years when my girls are still little and resent the fact that I missed out on a lot of their childhoods because I was working so much, so it's the right time to take stock for a bit."
Get the What to Watch Newsletter
The latest updates, reviews and unmissable series to watch and more!