Peter Kay on Car Share: 'Sometimes the simplest ideas are the best'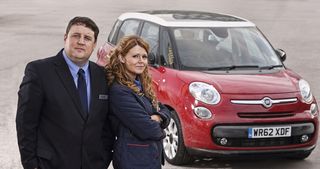 (Image credit: BBC/Goodnight Vienna Productions)
Bolton-born comedian, Peter Kay, 41, is breaking new ground in a six-part series, Car Share. Not only is his new series on the BBC for the first time – and it's his first TV series for 11 years – but also it's the first series to be premiering in full on iPlayer (available from 24-28 April), before hitting our TV screens a week later in a traditional weekly slot.
So what's it all about? TV Times talked to Peter about the series...
Why did you return to our screens with this new series?
"I really liked the idea of two people communicating in a confined space, the potential of spiralling conversations and the opportunity to find humour in the daily commute that millions of people do everyday."
Tell us a bit about it?
"It's a simple story of two people, who vaguely know each other, who are thrown together in a car share scheme and how they slowly get to know each other over their daily commute to work. It always sounds easy when I sum it up, but sometimes the simplest ideas are the best."
Music and radio are an important part of the show. Why?
"I really wanted the car radio to be a strong third character as it represents so many people's daily commutes.
"It's also essential that the radio sounds authentic so I commissioned the production of six breakfast and drive time shows with real presenters, items, news bulletins, weather and commercials."
It must have been a lot of extra work...
"Yes it was, but I think the end result is brilliant and well worth the extra effort. By creating Forever FM, a radio station that plays, 'Timeless hits now and forever,' I was able to use music that I hope helps support the warmth of the series."
You've known your co-star Sian Gibson for more than two decades and worked together before, so how did you get along in this series?
"I was incredibly comfortable working with Sian – our relationship allows a shorthand between us. We brought a lot of own personalities and real-life stories to the scripts and also the chance to improvise, which was lovely.
"There was a huge amount of trust from the BBC as I was basically casting one of my best friends in a main role, but I've always completely believed in Sian. Fortunately, once the BBC saw a rough edit of her performance they were delighted."
What made you decide to put the series on iPlayer?
"I like to binge on a series and watch more than one episode at a time, which I know a lot of people like to do, so I thought it'd be great to launch the whole series on iPlayer and give viewers a chance to watch them all at once."
Your next project sees you in completely new territory, tell us a bit about it?
"I've just started filming a new BBC series called Cradle to Grave, written by Danny Baker and Jeff Pope. It's the first major acting role I've ever had that I've not had a hand in writing or producing and I have to say that even though I am very nervous, I take great consolation in the fact that it's really well written."
So will it be less stand-up and more acting from now on?
"I just feel lucky that I'm able to do both, as I love them equally, but in very different ways."
Get the What to Watch Newsletter
The latest updates, reviews and unmissable series to watch and more!