Pete's Peek | Sex, sun and betrayal star in Carol Reed's exotic 1950's drama Outcast of the Islands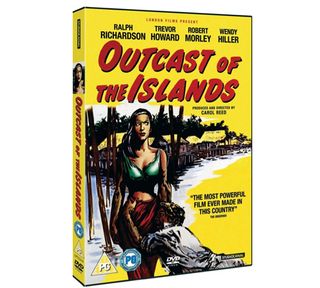 Fans of classic British cinema will of heard of Carol Reed's Odd Man Out and The Third Man, but few will recall the film that he followed those big hits - Outcast of the Islands, a searing melodrama - based on the 1896 Joseph Conrad novel of the same name - about a British ex-pat wandering the exotic ports of Malaysia.
The film adaptation follows the undoing of Peter Willems (Trevor Howard in a haunting performance) a disreputable, immoral man who, on the run from stealing from his superiors, finds refuge in a remote riverside village, only to betray his kindly benefactors. One of those benefactors is Ralph Richardson's salty sea captain Tom Lingard (a recurring character in Conrad's work), who believes good can be found in even the darkest of souls. But he sure has his work cut out for him with the libidinous Willems whose obsession over a tribal chief's daughter proves to be his undoing.
This 1951 film, partially filmed in Sri Lanka, was the culmination of Carol Reed's brilliant quartet of post-war films, and while he directs with a keen eye for Conrad's source material, it's the outstanding photography by John Wilcox that really adds to the sultry, stifling atmosphere.
Nominated for two Baftas, but virtually unseen until now, Outcast of the Islands makes for a super lazy Sunday afternoon adventure. Watch out for a really professional turn from Robert Morley's real-life daughter, Annabel. And as for the exotic beauty, Kerima, who plays the film's duplicitous vixen – does anyone know what happened to her?
Outcast of the Islands is released on DVD through MovieMail
Get the latest updates, reviews and unmissable series to watch and more!
Thank you for signing up to Whattowatch. You will receive a verification email shortly.
There was a problem. Please refresh the page and try again.