Pixie Lott on her acting debut in Inspector George Gently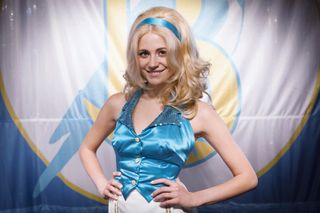 (Image credit: BBC/Company Pictures/Ed Miller)
TV Times magazine meets pop star Pixie Lott as she makes her drama debut in this week's Inspector George Gently…
Hi Pixie! What was it like starring in this week's episode of Inspector George Gently?
"I have done so many performances and gigs that singing is like second nature. I don't feel nerves any more. But I'm not used to acting, so I was really nervous filming my first scenes. Luckily, I didn't have too many lines to mess up, I was eased into it!"
Inspector George Gently is set in the 1960s. Are you a fan of music from that era?
"I'm a big Motown fan – I love The Supremes, The Four Tops, The Temptations – and my new album has more of a soulful Motown sound, so it fits in really well with this. Being in Inspector George Gently has been like research for the next songs I write."
For your drama debut, you play Megan, an entertainer at the Bluebirds Holiday Camp. Are there any similarities between you and her?
"Megan is a girl who loves singing and dancing, so she is similar to myself. Something dark is going on in the holiday camp. My biggest scene was a huge argument with two of the Bluebells when I find out one of them is getting an underage girl involved in a prostitution ring."
What happens?
"Megan threatens to call the police. There are tears, someone hits me over the head with an iron, I was pushed into a table and thrown into the sea – so I can even say I did my own stunts! Lying on wet sand in freezing cold weather is not at all glamorous."
Would you like to do more acting in the future?
"I went to performing arts school, so we did all different stuff from Shakespeare to comedy and musical theatre. My best friend Jasmyn Banks, from my class, plays Alice Branning in EastEnders now and a few are in West End musicals. But if I'm going to do more acting, I need to watch more British drama rather than reality shows!"
What other TV shows do you enjoy watching?
"I also watch lots of American dramas and movies. Since I was young, I've loved Julia Roberts – she has so much charisma and always looks so beautiful. And I still love Friends!"
Inspector George Gently continues Thursdays at 8.30pm on BBC1.
Get the latest updates, reviews and unmissable series to watch and more!
Thank you for signing up to Whattowatch. You will receive a verification email shortly.
There was a problem. Please refresh the page and try again.