Poirot star Zoe Wanamaker: 'Like Ariadne I'm a bit scatty' (VIDEO)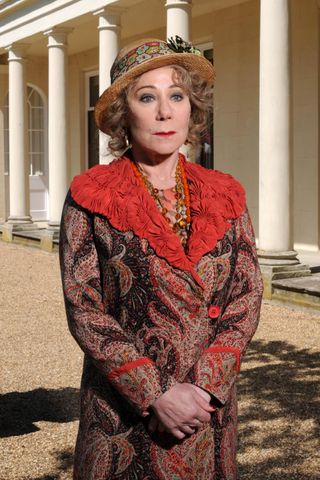 Poirot's pal, Ariadne Oliver, turns up in the latest Poirot mystery, Dead Man's Folly (ITV, Weds, Oct 30). Here, Zoe Wanamaker talks about playing Poirot's flamboyant friend and working with David Suchet...
Dead Man's Folly will be the sixth Poirot adaptation you've appeared in as crime writer Ariadne Oliver. What do you like about the stories?
"These stories usually start with Ariadne and then she gets into trouble and calls up her friend Poirot to help get her out of it. He can solve the crime, as he's the detective, whereas she's just the crime writer."
In this story, Ariadne has been chosen to stage a fictional murder hunt in the grounds of Nasse House, Devon. But she has a hunch that a real murder is about to take place, why is that?
"Ariadne's not happy about the people she's with and gets a feeling something going to go wrong. The great thing about Ariadne and Poirot is that she's all instinct and he's all fact. They respect each other, but they're also very rude to each other, which makes it fun to play."
What is it you love about these stories that makes you want to come back again and again?
"Well, because the character's so funny. She's so mad! From what I understand, Agatha Christie started building a character who, I think, was loosely based on herself and invented this mad woman. Like Ariadne, I like to follow my own instincts - and I'm a bit scatty!"
Ariadne has a very specific look - do you like what she wears?
"I do a lot of work with Sheena the costume designer on what Ariadne should wear, which is fun. The costumes are great and we have a lot of fun with finding all the right bracelets, necklaces, earrings and fabrics that go with it."
Do you also enjoy working with David Suchet, who you've appeared in theatre with as well?
"We've known each other since 1978, when we were at Stratford together. So we're very close and it's always nice to work with a good friend. We did All My Sons together, which was a great success. We constantly talk about working together again - we come up with lots of silly ideas."
Do you feel quite sad that we're coming to the end of Poirot?
"Yes. But to have done the whole cannon I think is a fantastic achievement and so I think it's good to stop. Why go on, when you've done it all?"
What's been your highlight of all the Poirot's you've appeared in?
"Every day is a highlight, the character is so much fun to play. I've enjoyed reading the books, going through each story and finding out new clues about her. Ariadne's been a joy!"
You've had an incredible career - do you find you've become more choosy about roles?
"I've always been picky but, as women, the older we get, the corridor gets narrower. But there's always going to be something interesting to do and you can't always play the same thing. That's what's been fun about Ariadne - she's completely off the wall!"
http://vimeo.com/v/77693350
Get the latest updates, reviews and unmissable series to watch and more!
Thank you for signing up to Whattowatch. You will receive a verification email shortly.
There was a problem. Please refresh the page and try again.