Poldark Exclusive: Hugh Armitage only ever wanted Demelza says Josh Whitehouse after TRAGIC scenes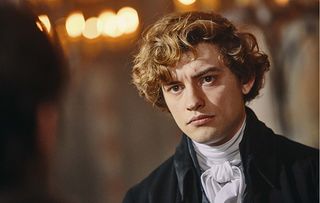 (Image credit: BBC/Mammoth Screen/Mike Hogan)
Warning, contains big Poldark spoilers!
Poldark star Josh Whitehouse says he's "so sad to leave" the BBC1 hit after his character Hugh Armitage tragically died in last night's episode.
Hugh appeared to almost die of a broken heart as Demelza (played by Eleanor Tomlinson) – who he's been madly in love with ever since they met – turned down his last desperate pleas to be with him.
Having suffered terrible health woes since his time as a prisoner of war, Hugh had nothing left to live for and passed way.
Speaking about tragic Hugh's final emotions, Josh told us: "I think Hugh has just been desperate to know in this series. She has been on his mind for many months and he has been suffering a heartache having been allowed in to her heart a little.
"This unanswered question is what drives him insane. I think he wants to believe and deep down thinks that Demelza could be his - otherwise he would have stopped trying for her affection."
He added: "I think Hugh means well. I think the heart wants what the heart wants and his heart wanted Demelza.
"I can't say I support him taking action on a married woman - but at the same time I think he handled it very carefully.
"He spent a long time talking with Demelza and they developed a strong chemistry. I think he probably just wanted to know whether she was feeling the same way. But in doing so the pair of them became entangled in an undeniable affection for one another."
As to his own feelings, Josh said he had mixed emotions: "I'm so sad to leave, it's been so much fun working on Poldark - I love the whole gang - but I'm also really happy that I've been able to be involved in such a great and established show.
"It's been a real honour but now I'm excited to move on to something new."
And Josh revealed that some Poldark fans had previously warned him away from stealing Ross' wife!
"I have been warned away from Demelza and Ross (it's not me!) I would say over all I have had a lot of lovely support online from fans and I really appreciate it. As for Hugh's poetry - I can't say I'll lay awake thinking about it at night."
Poldark continues on BBC1.
Get the latest updates, reviews and unmissable series to watch and more!
Thank you for signing up to Whattowatch. You will receive a verification email shortly.
There was a problem. Please refresh the page and try again.