Prime Suspect 1973's Blake Harrison: 'All the male cast split their 1970s trousers!'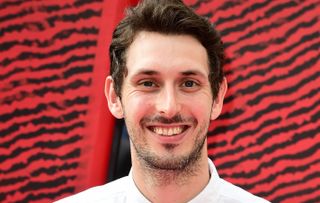 (Image credit: PA Archive/PA Images)
Blake Harrison on the perils of 1970s costumes in the Prime Suspect prequel
Blake Harrison shows off his dramatic prowess in ITV's powerful crime drama prequel Prime Suspect 1973, as tough-talking DS Spencer Gibbs alongside Stefanie Martini as the young Jane Tennison, but donning the 1970s costumes proved rather tricky. The Inbetweeners star reveals all to TV & Satellite Week…
What's your take on Gibbs? "He has a very short fuse. He is not corrupt, he is smart guy and a good detective but he'll do what's necessary to get his man and that's where conflict crops up because he takes things too far at times and gets physical with the suspects."
He doesn't seem keen on Tennison… "It was a male dominated environment at the time and Gibbs' first instinct is to check out female officers to see if he can sleep with them. But he's smart enough to realise that Jane is good at what she does. He gives her cleaning up jobs because she's a woman but she starts to prove herself and he respects that and learns to treat her like a valuable asset."
Did you watch the original Prime Suspect? "No but it is on my to-do list. I was a bit young when it came out and I didn't get chance to see it before filming because I got the call that I was cast the day before flying out to Mauritius to get married. I had to come back from honeymoon a week early to start filming and leave my new wife and our guests waterskiing while I was filming in a 1970s drug squat in Hackney."
Did you research what policing was like in the 1970s? "Yes, we had an amazing police liaison who gave us loads of information like the fact that a police station would only have one set of handcuffs so you'd have to detain someone and then phone the station to get someone to unlock the box they were in and bring them down. Obviously there was a more heavy-handed nature to the policing at that time and we also heard stories about the attitude of male officers towards women. One WPC was carrying trays of tea to the superior officers and a bloke grabbed her chest. She was more annoyed that he could have made her drop the teas whereas now, rightly, she could report him for assault."
What was it like getting a taste of the 1970s during filming? "I grew my own sideburns and moustache so I got a lot of '118!' shouted at me in the street because I looked like the blokes from the advert. The music in the show is fantastic though but we did have to have smoke machines behind the cameras pumping through all the sets to make it look like people had been smoking all day."
How did you find the costumes? "I loved Gibbs' stylish three-piece blue suit; he is a real peacock. He is also the lead singer of a rock band too and my outfit for that was like something out of Strictly with an open frilly red shirt – very fetching. The trousers we all wore were a problem though. I'd like a survey done as to how the male posterior has changed in 40 years because each of us boys at various stages ripped our trousers. Men in 2017 must have more junk in their trunk than in the 70s because those trousers could not contain our bums."
You've done a lot of comedy over the years so did you want to add a new string to your bow by doing grittier roles? "Yes, I really wanted to do more drama and I'd like to think that people will start to see me in a different way. The most watched things I have done are The Inbetweeners and Dad's Army, which were both lovely, but now I'm working towards a bit of versatility and I'm currently also filming a new BBC1 drama Trust Me now in Glasgow with Jodie Whittaker."
Watch the trailer here...
http://www.youtube.com/watch?v=gdDpKWwq_AQ
Prime Suspect 1973 airs on Thursday on ITV at 9pm
Get the latest updates, reviews and unmissable series to watch and more!
Thank you for signing up to Whattowatch. You will receive a verification email shortly.
There was a problem. Please refresh the page and try again.