Everything you need to know about Prime Suspect: 1973!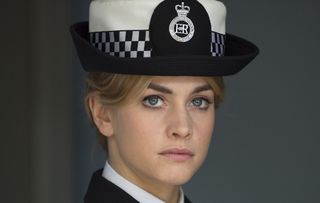 As the premiere date for the Prime Suspect prequel gets closer, we examine what's in store for the young Jane Tennison...
TV's toughest female detective, Jane Tennison, is returning to our screens in a fortnight in ITV's hard-hitting new prequel Prime Suspect: 1973. Here's the lowdown on what to expect…
What's the set-up? The gritty six-part drama goes back to the 1970s when the young Jane Tennison, played by Stefanie Martini, is in her early 20s and is working as a probationary WPC in Hackney, East London.
What case does she tackle? Although WPC Tennison's male colleagues expect her to make their tea and do admin, she soon gets enmeshed in her very first – and very murky – murder investigation when a young prostitute is found dead in a car park.
Where have we seen Stefanie Martini before? The 26-year-old played gentle heroine Mary Thorne in Julian Fellowes' ITV adaptation of Anthony Trollope's novel Doctor Thorne last year. She is currently starring as quirky Princess Langwidere in US fantasy drama Emerald City, which screens on 5*.
Who else is in it? New Tricks' Alun Armstrong co-stars as prison inmate Clifford Bentley, who heads up a local crime family, while Unforgotten's Ruth Sheen plays his wife Renee. Hatfields & McCoys' Sam Reid plays DCI Len Bradfield, who spots Tennison's potential, while The Inbetweeners' Blake Harrison is his fiery colleague DS Spencer Gibbs and Fortitude's Jessica Gunning is WPC Kath Morgan. Cracker's Geraldine Somerville and DCI Banks' Nick Sidi are Tennison's parents Joyce and Andrew.
Why was the original so good? Helen Mirren first donned the sleek suit of Detective Chief Inspector, later Detective Superintendent, Jane Tennison in 1991. The series, penned by Lynda La Plante, gave a warts-and-all look at the challenging work of a high-ranking female officer, as Tennison and her colleagues hunted a variety of twisted serial killers and also tackled issues including racism, child abuse and immigration.
In 2006, Helen reprised her Bafta and Emmy-winning role for a seventh and final instalment, which saw the care-worn, alcoholic cop finally retire from the force. The series attracted an impressive range of guest stars over its 15-year run, including Tom Wilkinson, Zoe Wanamaker, Ralph Fiennes, Peter Capaldi, Stephen Tompkinson, Jonny Lee Miller, David Thewlis, Lesley Sharp and Marc Warren.
Watch a trailer for Prime Suspect: 1973
https://youtu.be/gdDpKWwq_AQ
Prime Suspect: 1973 screens on ITV in early March
Get the latest updates, reviews and unmissable series to watch and more!
Thank you for signing up to Whattowatch. You will receive a verification email shortly.
There was a problem. Please refresh the page and try again.