Ragnarok: The Viking Apocalypse (2013) | Indiana Jones meets Jurassic Park in the fun Norwegian family adventure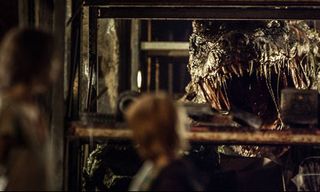 SYNOPSIS Obsessed with the Norse legend of Ragnarok, about the ends of days, widowed archaeologist Sigurd (Pål Sverre Hagen) embarks on an expedition to an island in Norway's remote north to find a lost Viking treasure. Along for the ride are his children, Ragnhild and Brage, colleague Allan (Nicolai Cleve Broch) and feisty survivalist Elisabeth (Sofia Helin). But when the group uncovers the booty, they disturb a gigantic snake-like creature that will stop at nothing to get back what it values most – its eggs…
THE LOWDOWN The 2013 Norwegian monster movie Ragnarok: The Viking Apocalypse is an enthralling family adventure with a subtle green message rippling under its surface. With nods to Jules Verne's Journey to the Centre of the Earth, Romancing the Stone and Alien, it's as much fun as any of Steven Spielberg's Hollywood blockbusters like Indiana Jones or Jurassic Park that it obviously pays homage to – but without the cloying sentimentality and made at a fraction of the price.
It also has fun putting Sofia Helin's heroine up, close and central to saving the day – and the men (Scandi-noir fans will no doubt recognise Helin from TV's The Bridge), while the fabulous vistas will have you choosing Norway (and Oslo's Viking Ship Museum) as your next holiday destination. The creature effects are also winner, looking just as effective as The Hobbit's Smaug. This is seriously good time viewing and not to be confused with Marvel's third Thor adventure, also called Ragnarok, which is due out next year.
Available now on Amazon: http://amzn.to/1tDgPgv http://youtube.com/v/U2sBa6-hEHo
Get the What to Watch Newsletter
The latest updates, reviews and unmissable series to watch and more!