Ralf Little: 'It would have been lovely to show Caroline Aherne Borderline'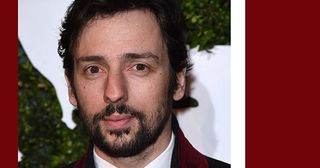 (Image credit: David Fisher/REX/Shutterstock)
Borderline is inspired by fly-on-the-wall documentaries such as UK Border Force and this cheeky six-parter series is narrated by Ralf Little, who also co-executive produced the show
Ralf Little narrates Borderline, Channel 5's first home-grown comedy for a decade. It's a spoof documentary exploring the working lives of a rather incompetent team of airport border agents, led by out-of-her-depth chief inspector Linda Proctor (Jackie Clune).
The eccentric agents oversee immigration and customs at the fictional Northend Airport where they have to cope with a range of tricky passengers, as well as the impact of bureaucratic Home Office directives.
Inspired by fly-on-the-wall documentaries such as UK Border Force, the cheeky six-parter is narrated by Ralf Little, who also co-executive produces the show.
Immigration and national security have been high on the news agenda in recent weeks, so is it possible to show the funny side of border control? "The show avoids making political statements. It's a character-based series. We are not The Thick of It.
"This is a quirky new comedy about border control agents who are decent ordinary people trying to do a difficult and extraordinary job. Every facet of the show is relatable because everyone has been to an airport, everyone has been through border control and every single person who approaches a passport desk get nervous and thinks, 'I don't accidentally have 20kg of coke or an automatic weapon in my bag, do I?'"
Filmed at Coventry airport and written by Chris Gau and Michael Orton-Toliver, the series is also semi-improvised by the cast. How does that work? "It's great because it means you can film it a lot quicker and then everyone can go to the pub. The whole thing has an experimental feel which I hope is really winning. The Americans have been doing improvised comedy for years with things like Parks and Recreation and Judd Apatow's films, but we don't really do improvised comedy on TV as much here – it is not part of our DNA – so this feels really fresh and exciting."
Sadly, your Royle Family co-star Caroline Aherne passed away last month and didn't get to see the series. Do you think she would have liked it? "She was always really supportive of everything I have done and it would have been lovely to show her this. She would always give you an honest opinion and I think she would have liked Borderline, so it is a shame I never got to show her."
https://youtu.be/84n339QmF1A
Borderline premieres on Channel 5 on Tuesday, August 2.
Get the latest updates, reviews and unmissable series to watch and more!
Thank you for signing up to Whattowatch. You will receive a verification email shortly.
There was a problem. Please refresh the page and try again.