Shades of Blue star Ray Liotta: 'It was odd kissing a dude... stubble hurts!'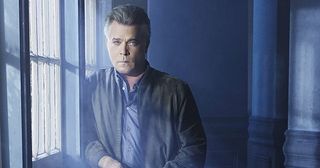 (Image credit: Jeff Riedel/NBC)
Menacing Hollywood star Ray Liotta, best known for iconic Mafia film Goodfellas, took on a new challenge in crime drama Shades of Blue – he had to kiss a dude
Anyone who's seen Ray Liotta's breakthrough film Something Wild and most iconic big-screen performance as Henry Hill in Martin Scorsese's gangster masterpiece Goodfellas will appreciate why meeting the actor in the flesh can be a slightly daunting proposition
Ray showcased his trademark ability to flip between easy-going charm and violent menace, which serves him well in his latest role as a corrupt cop in the crime drama Shades of Blue, co-starring Jennifer Lopez, and currently showing on Sky Living.
So when TV&Satellite Week caught up with the star in a London hotel to find out more about the show, there was some concern as to which version of Ray we were going to encounter...
Do you enjoy playing these violent characters? "I'm not a violent person, I've never been a fight in my life. So to play these characters is great, because I get to do something that I've never really done."
How was it working with Jennifer Lopez? "I didn't really know Jennifer's work – I know she's done a lot of romantic comedy – but she was great. She had a lot on her plate, because at the same time she was doing American Idol and getting ready for a show in Vegas. But she was extremely professional, gave her all, was always emotionally centred and did exactly what needed to be done."
Was you looking forward to being on the show? "I wasn't sure about what kind of show and whose show it was going to be. I didn't know if it was going to be a Jennifer Lopez vehicle or a show about a couple of people, or an ensemble. But the head writer invited me up to his office and I saw what they wanted to do across the whole series – they wanted a compelling story about a group of people."
What is your character like? "He's an extremely complicated person. He's a bisexual cop who does a lot of good things and a lot of bad things. He's nice to people, and has no trouble hurting people; he loves his wife and likes his boyfriend."
How did you find it playing a bisexual character? "The biggest challenge was the kiss – I'm straight, so it was definitely odd kissing a dude. The biggest thing I learned from the whole thing was that, the next time I kiss a girl, I'm going to be clean-shaven – because stubble hurts! But as far as playing it is concerned, I don't give a damn about that – this is acting."
Watch Shades of Blue on Sky Living (opens in new tab) from Monday, August 3
Get the latest updates, reviews and unmissable series to watch and more!
Thank you for signing up to Whattowatch. You will receive a verification email shortly.
There was a problem. Please refresh the page and try again.