'I love having a row!' Rebecca Front enjoys being nasty in Love, Lies & Records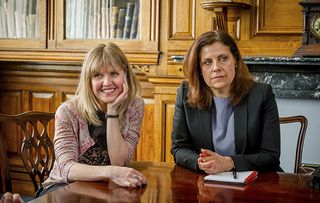 (Image credit: BBC / Rollem Productions)
In BBC1's Love, Lies & Records she plays the joyless jobsworth Judy
Warm, modest, and full-of-fun, Rebecca Front (above, right) is always a joy to interview . It's somewhat unlikely, however, that those words would ever be used to describe Rebecca's current character, stickler-for-the-rules Judy, in BBC1 drama Love Lies & Records.
After missing out on her dream promotion to the top job of Superintendent, jealous Judy has set about making life hell for new boss Kate (Ashley Jensen, above left). In this week's third instalment, Kate is mortified when anonymous email featuring that video sends shockwaves through the register office and all eyes turn to Judy.
Rebecca, 53, tells us why she loves playing someone so different to herself…
What appealed to you about playing Judy?
She's a really complicated woman, and everything she leans on to make her life easier is somehow making it more complicated. She does some horrible things, but she's not a terrible person at all, she's just one of those people who ties themselves up in knots and makes wrong decisions, which we all do from time to time. I feel she's a very lonely woman. All the way through filming we've been saying Judy's not the wicked witch of the west, that's not the way [writer] Kay Mellor intended her to be.
There are some fantastic sparring scenes between Judy and Kate this week…
I love doing a row! They're great! I think because as a person I'm very non-confrontational, it's really cathartic to just have a really good blow up so there have been a couple of cracking arguments!
Did Judy have a problem with Kate before she got promotion instead of her?
They're not natural buddies, they're very different, but my feeling is that there was no hostility at all until this happened. When Kate got the job, Judy loses it because I feel like that was her one beacon of hope. Everything else has been going pear shaped in her life and she was thinking well at least I'll have that and a bit of authority. She's really good at her job and she genuinely thinks its plain wrong in every way, ethically as well as personally.
Did you do any research for the role?
We had a look round a register office, which was interesting and we got to ask lots of questions. I did a slightly sneaky thing - I'm very picky about accents and because I'm playing someone from Leeds, I put my phone on to record them because they just had exactly the right tone.
Now you've played a registrar, is it a job that appeals for real?
I think it would be fascinating, I'm not sure I'd be very good at it, but you're in people's lives at very big turning points. It's quite a good actor substitute job, too, because it's a very public role.
Have you found Judy's power going to your head?
[laughs] Slightly! When I came into this room for our interview, I thought: I [Italics] did a wedding in here the other day - I've got illusions of grandeur! The other day I was talking to someone who is getting married and I found myself going: 'Right, you need to do your notice and…' Yes, you do absorb bits of information that you carry forward into your normal life!
Your CV is a wonderful mix of dramatic and comic roles, and you've recently joined the cast of BBC1's hit Cornish costume saga Poldark as the formidable Lady Whitworth for the fourth series, set to air next year. How do you choose your next project?
My rule of thumb is looking for something I haven't done before. If a stonking great part came up then obviously I'd do it, but I'm usually thinking "Can I bring something new to this?" I'm always looking for a challenge.
Love, Lies & Records continues on Thursday at 9pm on BBC1
Get the latest updates, reviews and unmissable series to watch and more!
Thank you for signing up to Whattowatch. You will receive a verification email shortly.
There was a problem. Please refresh the page and try again.