Rebecca: 'I'm a commoner who becomes the White Queen'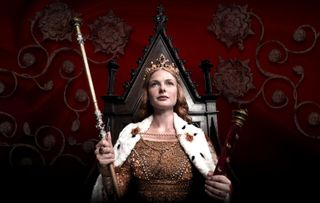 Swedish actress Rebecca Ferguson takes the title role in BBC1's epic drama The White Queen (opens in new tab), which premieres on Sunday on BBC1 at 9pm and is based on Philippa Gregory's best-selling series of novels about the Wars of the Roses. TV & Satellite Week (opens in new tab) caught up with her to find out more…
You play Elizabeth Woodville, who becomes the White Queen when she marries the Yorkist king Edward IV (Max Irons). What is their relationship like?
"She is a commoner from the Lancastrian side, but they fall madly in love at first sight and it changes the course of history. Elizabeth learns all the political games quickly, but she gets strength from her mother Jacquetta [Janet McTeer] along with a belief in magic, as she thinks that they are related to the water goddess Melusina."
What makes this different from other historical drama?
"Not much history is told from the female perspective, so it is great because it shows the battle that the women fight at home is as important as the one the men wage in the field. Elizabeth doesn't want the crown for its own sake, her ambition is for her family. There are very high stakes and she'll do anything to keep their throne safe and that's the same battle that the other queens in it fight. They aren't cat-fighting though, it is all about powerful intellectual mind games."
How did you prepare for the role?
"I had a really good voice coach and I read Philippa's books and I could ask her anything such as how I would cross my legs or use my hands. The costumes helped too because they were so heavy, they make you walk in a certain way and Bruges, where we filmed, was amazing. You can film 360 degrees and it all looks authentic and picturesque."
Did you have to learn any new skills?
"I had to ride side-saddle which is not as tricky as you think because you have an amazing saddle which gives you support, I just thought I would be sitting sideways on a regular saddle. I was nervous though because I have ridden before, but not much and all the horsemen that we had got in from France were very professional."
What was it like ageing up on screen?
"Elizabeth is over 40 by the end, and war and having lots of children have aged her. My make-up artist used a glue that you blowdry, put powder in my crinkles and drew lines on. At first I said, 'Bring it on,' but then I saw this old woman appear in front of me and it was weird so when the make-up artist turned her back I quickly smudged it! It all helps with the acting though."
Is it true that you are related to Sarah Ferguson?
"It has been mentioned, but I don't know. I am waiting for someone to look into my background and do something like Who Do You Think You Are?! My mother is English and moved to Sweden when she was about 25, but she has always had a relationship with England so she was over the moon when she found out I was going to do The White Queen."
Caren has been a journalist specializing in TV for almost two decades and is a Senior Features Writer for TV Times, TV & Satellite Week and What's On TV magazines and she also writes for What to Watch.
Over the years, she has spent many a day in a muddy field or an on-set catering bus chatting to numerous stars on location including the likes of Olivia Colman, David Tennant, Suranne Jones, Jamie Dornan, Dame Judi Dench and Sir Derek Jacobi as well as Hollywood actors such as Glenn Close and Kiefer Sutherland.
Caren will happily sit down and watch any kind of telly (well, maybe not sci-fi!), but she particularly loves period dramas like Call the Midwife, Downton Abbey and The Crown and she's also a big fan of juicy crime thrillers from Line of Duty to Poirot.
In her spare time, Caren enjoys going to the cinema and theatre or curling up with a good book.
Get the latest updates, reviews and unmissable series to watch and more!
Thank you for signing up to Whattowatch. You will receive a verification email shortly.
There was a problem. Please refresh the page and try again.