Rebecca Root: Trans sitcom Boy Meets Girl is just a 'good, old-fashioned love story' (VIDEO)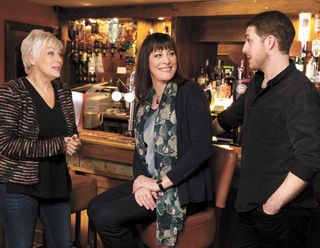 Transgender actress Rebecca Root stars as Judy, a 40 year-old transgender woman who falls in love with a man in his 20s, in new BBC2 comedy series Boy Meets Girl (Thursday, September 3). We caught up with Rebecca to find out more about the show… "]
Tell us about Boy Meets Girl… "The show was originally titled Love and that's what it's about really. Judy might have been born a man, but that's just a part of the story. It's a story about love and families."
How does Judy meet her new boyfriend Leo? "What's lovely is that she does just bump into this guy randomly in a bar. There's a little spark of something else happening, we glance and smile at each other and there's a click. That happens to people a lot I suppose. You might smile at someone across a train or in the queue and you don't expect it to become a relationship, yet why shouldn't it? Why shouldn't it become something more than just a smile?"
Has Judy had boyfriends before? "She has dated before, but usually men aren't interested after she tells them her secret. She's tired of the dating like that so with Leo she just lays her cards on the table immediately and he's unfazed!"
How does their first date go? "It goes very well, but she's still very realistic and doesn't allow herself to get carried away - because he's a catch! He's sweet, he's charming, he's handsome, yet he's younger than she is. She's being a bit careful because she's had some upsets in the past."
Former Coronation Street star Denise Welch plays Leo's mum – how does she feel about Leo and Judy's relationship? "She doesn't know Judy's secret at the start, but she's still not happy because Judy is nearly 40! Pam is quite direct, but she's not unkind. It's actually Leo's dad that first clocks that she's transgender."
What happens when Judy meets Leo's mum? "It's quite funny because Leo and Judy go for a pub lunch on their second date and both their families just come along! Janine Duvitski from Benidorm plays my mum and she was so much fun to work with.  Leo and Judy's two worlds really collide and we had such fun filming that scene. It took us four days in a pub in south Manchester to film that scene. It's a very long scene!"
How important do you think this show could be for highlighting the issues faced by transgender people like yourself? "Hopefully it will help people's understanding of the subject. I worked as a male actor for 10 years and then I had my hiatus and needed to get myself sorted out. Since then I've just been finding my footing again as an actor. It's been a long time coming. I'm not the only one out there – there are other performers with various degrees of exposure."
Producers only considered transgender actors for this role. Do you think that's a step in the right direction? "The tide is turning. Hopefully we'll see more people who are trans playing trans characters."
What are some of the issues transgender people face in every day life? "There are lots. People may have met a trans person without realising it or a friend of a friend, but many aren't sure of the vocabulary to use. I was chatting to Aasmah Mir for a BBC radio show. She was absolutely lovely, but she used the phrase 'sex change' and I said that's not really the language we use any more. That's a rather bald '70s term and it doesn't really tell the whole story."
What do you like about Judy? "I love the fact that Judy goes on dates and is out there! She also has a great sense of style and she knows how to do make-up and use straighteners – which I don't! I don't date because I don't have the kind of confidence she has!"
Get the latest updates, reviews and unmissable series to watch and more!
Thank you for signing up to Whattowatch. You will receive a verification email shortly.
There was a problem. Please refresh the page and try again.