Reece Shearsmith: 'We live in terror of people accusing us of doing the same thing twice!'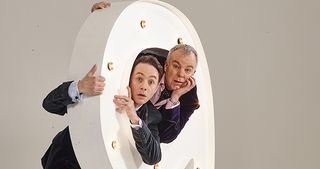 TV&Satellite Week (opens in new tab) (BBC2, Thursday) caught up with Steve Pemberton (opens in new tab) and Reece Shearsmith (opens in new tab) as they proudly present more twisted tales in a second ingenious series of Inside No 9...
What inspired you both to write your latest venture?
Reece: "Things like Armchair Thriller and Tales of the Unexpected. That as well as seeing the late-night Hammer films. It's uncanny that we have the same reference points and that's fed into our work. We try to write and make that sort of telly that stays with you and makes you sit up. It's not something that is going to wash over you – we require your attention."
Jack Whitehall makes a guest appearance in the first episode, we hear he had a bit of a problem on the first day of filming?

Steve: " The first episode is set on a tiny room of a train and one of the producers spent the whole shoot shaking it manfully for a week to replicate the shaking of a train. Unfortunately Jack Whitehall got travel-sick and he threw up on the first day of the shoot! He made excuses for himself and shot off to the bathroom, before returning with an embarrassed look on his face. It was quite funny."
http://www.youtube.com/watch?v=L2J-8s1MAOM
Sheridan Smith stars in an episode later in the series as well..

Steve: "Yes she does and she's excellent. I bumped into her on Mr Stink and she told me she'd love to be involved so when we wrote that episode we thought she'd be perfect. We were actually responsible for her not being able to pick up her award at the National TV Awards earier this year because she was filming with us. We did release her with plenty of time to go and she got ready and left, but she never made it. She told us the traffic was terrible!"
Were you ever tempted to write another silent episode?

Reece: "No, not really because if we had I think some people would have said: ' Oh they can't think of anything else to do, they're just repeating themselves.' We live in terror of people accusing us of doing the same thing twice, so we always try and think of new things!"
As well as writing and appearing in every episode, you're also behind the camera for a couple in the new run. How was that?

Reece: "One of them is set at a grandma's 79th birthday party. It's almost farce-like, which was enjoyable but a lot of work. The other was the call centre episode, which is shot on CCTV cameras and we don't cut away from the shot, so that meant shooting long scenes that we couldn't edit. They had to be perfect takes – one fluff and you can't use it."
You first met as students and are still going strong as writing partners. What's your secret?
Reece: "I'm always inspired by Steve and he makes me raise my game. It's a privilege to work with him and I'm beyond the point of thinking he's better than me. What's good is that I'm still alongside him, working together. He's a great technician and he's got a real instinct for the beats in the script. It's a joy to still be getting on and I think it's got easier really. The writing is more enjoyable now – not like pulling teeth."
Steve: "Reece is… punctual and competent! No, Reece cracks me up and we just cry laughing. He's a very instinctive actor and brilliantly funny, whereas I'm probably a little more analytical. The result is a great combination to have in terms of putting these things together."
Get the latest updates, reviews and unmissable series to watch and more!
Thank you for signing up to Whattowatch. You will receive a verification email shortly.
There was a problem. Please refresh the page and try again.