Richard Gere: 'I've never done anything like MotherFatherSon'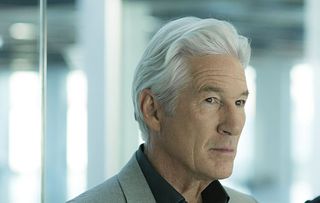 (Image credit: BBC/Laurence Cendrowicz)
Richard Gere on making the move to British TV with new BBC2 thriller MotherFatherSon
From Pretty Woman to Chicago, Richard Gere has been one of the most iconic Hollywood stars of the last 40 years, but now he's making a rare TV appearance in BBC2's intense drama MotherFatherSon.
Richard plays charismatic press baron Max Finch whose personal life is deeply troubled as his ex-wife Kathryn Villiers (Helen McCrory) is still struggling with the fallout from their divorce. Meanwhile their hard-living son Caden (Billy Howle), who runs Max's UK newspaper, finds it hard to emerge from his father's shadow.
Here, Richard Gere reveals why he's thrilled to be trying his hand at TV in MotherFatherSon, which starts tonight on BBC2 at 9pm…
This is a departure for you isn't it?
Richard Gere: "Yes, I've never done anything like this - playing a lead character in a TV series, or playing a character for this amount of time. I see MotherFatherSon as an eight-hour movie. It's rare to see this depth of character. You want to know where things are going to go."
Is Max based on anyone?
RG: "You think you know this guy, because we know figures like Rupert Murdoch and Richard Branson who've achieved so much, have a golden touch and are involved with businesses linked with power, politics and media. But Max isn't based on any of them. My question was, 'How do you create a character that's recognisably a counterpart to them, but has a personality of his own?'"
Will we like him?
RG: "I was trying to figure out as I was playing him just how dark he could go. Max does questionable things but I don't see him as an evil villain. His actions are understandable. He's one of us, albeit he has more power and money and problems than most of us."
What's his relationship like with Caden and Kathryn?
RG: "It's complex and we see how they destroy each other but they need each other. Max has high expectations of his son and pushes him too hard. Caden chafes at that. With Kathryn it's prickly. There's love and concern there, mixed with regret, pain and suffering."
MotherFatherSon is also wide-reaching as it sees Britain on the cusp of change and Max has huge political influence doesn't he?
RG: "Yes, the human family story is set against a larger story about international politics and populism, which is spreading across the planet. Why are politicians and people behaving badly? It's happening everywhere. That's why MotherFatherSon is Shakespearian in scale. It's got human honesty but also a vastness in its ambition of dealing with big questions."
MotherFatherSon begins on Wednesday 6 March on BBC2 at 9pm
Caren has been a journalist specializing in TV for almost two decades and is a Senior Features Writer for TV Times, TV & Satellite Week and What's On TV magazines and she also writes for What to Watch.
Over the years, she has spent many a day in a muddy field or an on-set catering bus chatting to numerous stars on location including the likes of Olivia Colman, David Tennant, Suranne Jones, Jamie Dornan, Dame Judi Dench and Sir Derek Jacobi as well as Hollywood actors such as Glenn Close and Kiefer Sutherland.
Caren will happily sit down and watch any kind of telly (well, maybe not sci-fi!), but she particularly loves period dramas like Call the Midwife, Downton Abbey and The Crown and she's also a big fan of juicy crime thrillers from Line of Duty to Poirot.
In her spare time, Caren enjoys going to the cinema and theatre or curling up with a good book.
Get the latest updates, reviews and unmissable series to watch and more!
Thank you for signing up to Whattowatch. You will receive a verification email shortly.
There was a problem. Please refresh the page and try again.