Sir Ridley Scott: 'I followed Tom Hardy's career and suddenly I got a message from him.' Taboo is the result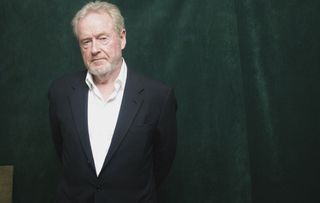 (Image credit: ABACA USA/Empics Entertainment)
Legendary film-maker Ridley Scott chats about what made him want to reunite with Tom Hardy for BBC1 period thriller Taboo
In his long and varied career, legendary director/producer Ridley Scott has made countless Hollywood classics, including Alien, Gladiator, Thelma & Louise and The Martian to name just a few.
But when actor Tom Hardy called out of the blue to talk about his new TV period thriller Taboo, the 79-year-old film-maker knew he was onto something exciting and original.
Here, he tells TV Times about collaborating with Tom to bring his noir-ish vision of 19th-century London to life on BBC1 in eight visually stunning episodes…
How did you become involved in Taboo? "I've known Tom a long time. I gave him his first movie role in Black Hawk Down 16 years ago, and even though it was only a small part, I remember thinking, 'This guy really knows what he's doing'. Every great actor has a kind of intuition. You can't be taught it; you've just got it, and Tom is a star, born and bred.
"I followed his career over the years and then suddenly I got a message from Tom saying his father, Chips Hardy, had written a story on what Tom would like to see on telly. So I met with them and quickly realised the evolution of where Taboo could go. I said, 'Let's do it'."
What's your role in the production of the show? "Great visuals don't just happen by magic and I am useful visually; it's one of my fortes, so I worked with my team at Scott Free [the company he founded with his late brother Tony] to put together the art departments on Taboo. I named the cameramen, wardrobe, hair – I'm good at that – and also approved directors, producers and writers. But making films and TV after all this time is easy. Once it's down on paper, for me, it's a doddle."
How did you envision the dark, gritty world of 19th-century London in Taboo? "A scene is like geometry in my head – you've got to envisage who will be doing what and where, and where your cameras should be. I put that down to my early career in television, and the many advertisements I've directed [he's made roughly 2,700, including the famous 1973 Boy on a Bike Hovis advert].
"I started out in live TV at the BBC and that six-camera operation taught me a lot. I now make films faster than most people because I can 'multi-camera'. But when I first went to Hollywood no one would even look at my show reel! It would knock your socks off now never mind 40 years ago! I just figured they didn't know what they were doing and I did. I was right… mostly."
Taboo isn't the only exciting TV project you have in hand… "I've actually got four feature films and seven TV shows on the go, including The Terror and The Good Wife spin-off. I can't keep my distance either. I get up early and I've learned how to multitask. It's all about making your mind up, trusting your intuition and also delegating. However, it's a bit like an old rock and roll band – if I'd known I was going to get this far I would have taken better care of myself."
Do you still have time to watch TV? "I watch a film every night, like a bedtime story. I have to! I've seen everything in the world now, though, and I'm getting bored!"
Taboo continues on BBC1 on Saturday, 9.15pm
Senior Writer for TV Times, TV & Satellite Week, What's On TV and whattowatch.com
Rebecca has more than 20 years' experience in journalism and is now writing about all things telly-related for TV Times, TV&Satellite Week, What's On TV and whattowatch.com (opens in new tab).
She's interviewed all sorts of big-name stars, including Al Pacino, Ewan McGregor, Tom Hardy, Winona Ryder, Benedict Cumberbatch and more. She's also been known to step in front of the camera, dressing up as a 1920s flapper to star in ITV's Mr Selfridge and co-hosting ITV News at Ten with Mark Austin – all in the line of duty!
When she's not quizzing actors, directors and producers, you'll find her bingeing US dramas and anything horror/sci-fi/zombie-themed. But her greatest love will always be Game of Thrones… just don't mention the ending!
Thank you for signing up to Whattowatch. You will receive a verification email shortly.
There was a problem. Please refresh the page and try again.