River star Stellan Skarsgard embraces London: 'I've tried using Cockney rhyming slang!'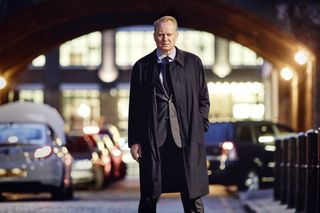 (Image credit: BBC/Kudos/Nick Briggs)
Hollywood star Stellan Skarsgard (opens in new tab) plays troubled London detective John River in new BBC2 drama River (Tuesday, October 13) so we caught up with him to talk about working on his first ever TV show, struggling with Cockney rhyming slang and eating jellied eels….
Tell us about John River...

"He can see dead people, including victims of the murders he's investigating. Sometimes they help him solve the murders and sometimes not. In the first episode he and his partner Stevie, played by Last Tango In Halifax star Nicola Walker, are hunting the man who killed their colleague."
Is he mad?

"No he's not mad, he's self aware and knows the people he's talking to aren't real. He's an intelligent man, but at the same time there are sides of him that he's not aware of. For instance I don't think he realises that he's in love with his deceased colleague!"
Is it just murder victims he sees?

"No, a murderous doctor who lived in the 1800s, called Dr Thomas Neill Cream, who's played by Eddie Marsan, also haunts him. Cream represents the very darkest side of River, the self-destructive and suicidal side of him. He's constantly fighting him, but to other people it just looks like he's punching the wall! I really hurt my knuckles doing those scenes."
http://www.youtube.com/watch?v=OEqCDbLMjww
River runs about a lot, did you train for the role?

"No, but I wish I had. If you're running for 30 seconds on film that means you're running for a whole day on set. Very tiring."
Did you do any research for the role?
"Not really. I've been a arrested a couple of times…"
This is your first lead role in a TV show, what made you want to do it?

"Abi Morgan's writing is superb. I didn't want to do a normal procedural police show, so I've really avoided them. But this isn't a normal police procedural show, it's far more than that. It's a story about lonelieness, love, loss and longing…"
How did you find working on a TV show rather than a film set?

"The speed was also amazing. I'm used to doing two minutes a day, but here we were doing six or eight minutes."
Would you do another series?

"I would do another one. They have an option on me anyway."
Apart from Abi Morgan's writing, what else made you want to try a TV show?

"So much has happened with television, because in film you have massive budget films and small budget films, but everything in between is gone. The character driven films that attracted good writers, good actors and good directors don't exist any more because there's no distribution system – they don't sell enough popcorn! So all that talent has moved across."
Is that why the quality of TV has improved in recent years?

"Yes I think so. Back in the day networks would use the same production methods for everything, but now they need different approaches when big talents come in. They have to adapt the method for the material, rather than adopting the material for the method."


How did you find filming in London?

"I've done lots of stuff in Britain before, so I'm used to it. We rented a nice house and brought over the wife and kids – I didn't see them much because I'm in every frame! – but I like it here. London is a great place if you're very rich."
Did you enjoy shooting in east London?

"There are some very nice places in east London – and others that aren't so nice. You can see what happens when you have a Cameron government for a while. It shocks me. What really shocks me is the election results and that people don't see it. It's going to be worse, much worse. Good luck!"
What did you think of the weather?

"It was cold and rainy, but you're always cold on film sets unless you're shooting somewhere tropical because you're dressed for the image and never for the weather. One place I didn't feel cold and that was in the Arctic, because we were so well dressed. I was dressed in seal skin."
How did you get on with the Cockney accent?

"Cockneys are hard to understand, I have a couple of books about rhyming slang, which I appreciate a lot. I've tried using it a bit – it's fun."
Have you tried any jellied eels?

"I love jellied eels. A beautiful dish!"
Some of your kids have become actors, have you given them any advice?

"I had one rule about bringing up children and that was I wouldn't lie to them. So if they ask me if I ever did drugs I had to tell them the truth. I never encouraged them to become actors – or discouraged them. But the good thing is that they have no illusions about what the life is going to be like."
Get the latest updates, reviews and unmissable series to watch and more!
Feature writer for TV Times, What's On TV, TV & Satellite Week and whattowatch.com
Sean has been writing about all things telly for over 10 years and in that time he's been lucky enough to interview stars like Ian McKellen, Tom Hardy and Kate Winslet. His favourite shows are The Great British Bake-Off, People Just Do Nothing and Succession and in his spare time he enjoys drinking tea, doing crosswords and watching football.
Thank you for signing up to Whattowatch. You will receive a verification email shortly.
There was a problem. Please refresh the page and try again.