'Rocky changed my life!' Dolph Lundgren on returning as Ivan Drago in Creed II and hosting ITV4 challenge show Take the Tower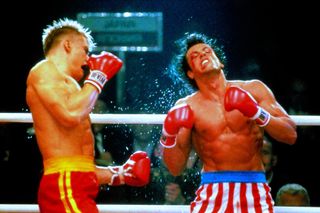 (Image credit: Alamy Stock Photo)
Dolph Lundgren talks about his forthcoming roles in Creed II and Aquaman and what it was like hosting Take the Tower, a new challenge game show on ITV4
In the upcoming Creed II, the latest film in the Rocky franchise, Dolph Lundgren returns to the role that gave him his big break nearly 40 years ago – Rocky IV's Russian boxer, Ivan Drago. But first fans of the Swedish martial arts expert and actor get to see him in a slightly different guise as he presents Take the Tower, a new game show inspired by classic action movies. We caught up with him to find out more...
How would you describe Take the Tower?
Dolph Lundgren: "It's a unique concept based on our favourite action films – like Die Hard, Terminator, Mission Impossible – and the teams taking part are either friends, work colleagues, families. I'm hosting and it's quite tongue-in-cheek, so I get to do a little comedy. And I take some of these guys on at the end."
What's is like appearing as yourself?
DL: "Some people say I'm better off doing this stuff than acting! There's something to that I guess. I studied engineering, I was a fighter, then an actor – it's a weird combination! You'd never find a character like that in a film. But it's easy for me to do and I like it."
What does it take to win Take the Tower?
DL: "You've got to work as a team and help each other. It's a lot to do with hand-eye co-ordination – especially at the end when I'm involved in a shootout with weapons. I didn't get a chance to practice – I arrived from LA with jet lag and these guys have been doing this for weeks – so I felt the pressure not to be a total loser!"
What team would you put together to compete on Take the Tower?
DL: "Stallone and Schwarzenegger, some of the guys from The Expendables. Wesley Snipes would be fun, Van Damme is always a riot to be around. Put them together and you'd have a good show for sure! If we won the holiday, I"d take them to Bora Bora."
What are the most dangerous stunts you've done?
DL: "When I did Red Scorpion in the 1980s, I decided to do some of my own stunts – like jumping from a motorcycle on to an armoured personnel carrier at full speed – totally crazy! Also I was followed by some hyenas for a scene in the desert, and one of them ran up and bit me!"
You're really busy with Creed II and Aquaman coming out. Is that how you like it?
http://www.youtube.com/watch?v=cPNVNqn4T9I
DL: "Part of me wants to relax, and part of me has this drive to see what I can accomplish. As you get older you realise you don't have time to mess around. If you want to meet somebody or go some place, you're better off just doing it. So with these movies I just decided to do it, even though it's hard work."
Why are action movies so popular?
DL: "It's the hero's journey, and our journey as human beings on this earth. We have to face these trials and tribulations and go through the same arc as these characters. If the film makes you feel something, you end up reflecting on your own life. It fulfills some kind of inner urge to figure out what it's all about and how to do it right. Especially if they're really good action movies. My favourites would be Gladiator, Unforgiven, The Godfather."
Do people have a preconceived idea of what you are like based on your film roles?
DL: "Yes, for sure. The first two roles I've had in any major film that are not based on action are these two coming up – Creed II and Aquaman. I'm there to fill a dramatic role. In Creed II I look kind of old and worn out!"
What was it like revisiting a character [the Russian boxer from Rocky franchise] who so crucial in your career?
DL: "That film changed my life. It was a role really I didn't want to do – the flat top haircut and all of that. But this script really explores what's happened to him, all the pain and anguish. The clothes are hanging off me, the hair is grey, I've got bad teeth! So I go for it."
Take the Tower starts on ITV4 on Tuesday 25 September at 9pm
Main Dolph Lundgren pic: Alamy Stock Photo
Get the latest updates, reviews and unmissable series to watch and more!
Thank you for signing up to Whattowatch. You will receive a verification email shortly.
There was a problem. Please refresh the page and try again.