Sanditon cast respond to critics: 'Of course they had sex!'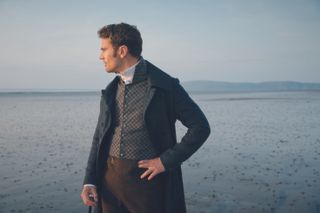 Purists have accused the cast of 'sexing up' Jane Austen's unfinished novel for the ITV adaptation.
ITV's hotly anticipated new adaptation of Jane Austen's unfinished novel, Sanditon, is set to hit our screens this evening – and it promises to be a saucy affair from the off.
Of course, this has upset one or two critics, who have accused the production team of 'sexing up' Austen's work with sex scenes and nudity.
But the cast are unapologetic. 'Of course they had sex!' Charlotte Spencer, who plays Esther Denham in the series, told Harper's Bazaar UK. 'It's shocking to me that people are shocked.'
'It's not about modernising it,' she continued. 'It's just about revealing more of the story than we've ever been told before. All the sex was alluded to. Now we're telling it how it really is. We're humanising it.'
'There's always going to be people who don't like it, die hard Jane Austen fans,' actress Lily Sacofsky, who plays Clara Brereton, told Digital Spy. 'But I think if you are open-minded and commit to the idea of it, it's all completely believable.'
'We're allowed, I hope, to carry it on, the naughtiness and the fun!' Charlotte added. 'People weren't boring back then. Of course they're going to drink and be merry and have a laugh and go carriage racing. They would have done these things.'
Kris Marshall, who plays Tom Parker, opened up to Lorraine viewers about his upcoming nude scenes on Wednesday's episode of the show. 'I do get my bum out,' he revealed. 'It's not the first time I've done that, I'm quite used to it. But it's the first time I've done it when I've been 15 years older than everyone else.'
'So there are a few reps that were needed to be done before I went to work,' he continued. 'A bit of tensing. A bit of sucking in. But it's all good.'
Sanditon aired on ITV on Sunday 25 August at 9pm
Get the latest updates, reviews and unmissable series to watch and more!
Thank you for signing up to Whattowatch. You will receive a verification email shortly.
There was a problem. Please refresh the page and try again.