Sanjeev Bhaskar: 'Goodness Gracious Me was groundbreaking!' (VIDEO)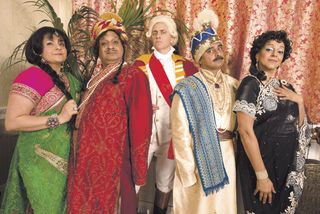 (Image credit: BBC/Des Willie)
Sanjeev Bhasker believes Goodness Gracious Me was groundbreaking when it first appeared on our screens and that it's still relevant today.
Sanjeev rejoins Meera Syal, Nina Wadia and Kulvinder Ghir for a special episode of the BBC2 comedy – first shown in 1998 – to mark the BBC's India Season.
Speaking to whatsontv.co.uk at a preview screening of the special episode, Sanjeev said: "I think it was groundbreaking in that there hadn't been a show like it that had focused on the British Asian community and certainly not focused on it via humour and I think the fact that there were a lot of preconceptions about British Asians that were dispelled by the programme, probably marked it out as kind of special in a way."
He added: "I remember realising the show had crossed over when I was in Islington, North London, and I was followed down the street by this skinhead going: 'Oi, Oi, kiss my chuddies!'
"I just looked at him and said: 'What?' and he said: 'Chuddies, it's underpants, innit?' I said: 'Yes, it is.' And he had a couple of little cronies with him and he shouted: 'I told you!' And I thought: 'Wow, the show really has crossed over'.
"The fact it was embraced as broadly and as warmly as it was and is still being discovered by kids through YouTube and stuff like that is extraordinary."
Commenting on why he thought the show - famous for its characters The Kapoors (Coopers) and the Competitive Mums - was still relevant to today's viewers, Sanjeev said: "The fact that these kids watch it and not only recognise it but empathise with the situations and the characters makes me think that either society hasn't moved on or that we hit archetypes that are always around and that's why they still have a resonance I guess."
Goodness Gracious Me India Special can be seen on Tuesday August 25th at 10pm on BBC2.
Get the latest updates, reviews and unmissable series to watch and more!
Thank you for signing up to Whattowatch. You will receive a verification email shortly.
There was a problem. Please refresh the page and try again.