Stephen Tompkinson: 'I lived the nightmare of being naked in front of strangers!'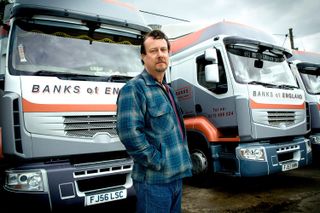 Stephen Tompkinson (opens in new tab) returns to our screens as a lorry driver suffering a midlife crisis in Truckers, a new five-part BBC drama from William Ivory. We caught up with him to talk about the role and how he ended up getting naked in Nottingham City Centre..
What first attracted you to the role of Malachi?
"Billy Ivory. I first met him 20 or so years ago and he's a lovely fella. It was my final week of Spamalot and I didn't know what the hell I would be doing and they said 'would you like a big role in a new Billy Ivory series?' I didn't even need to see the script, I just said yes.
"Bill's such a good writer and this is an amazing part. The best part I've had since Brassed Off. This guy is utterly living in denial. He's sharing a house with the woman he's been divorced from for 18 months and she's about to get engaged again. But Malachi just doesn't believe it will happen. He ends up dying his hair, getting the worst fake tan and botox injections and then taking all his clothes off in Nottingham City centre on top of a 40-tonne truck!"
How was that?!
"We filmed it on Father's Day funnily enough! I was wearing a sort of flesh-coloured thong and people did recognise me from certain angles. The city square was packed, I was living the nightmare of taking your clothes off and finding yourself naked in front of hundreds of strangers!"
Did you feel self-conscious?
"Yes, very. There were hundreds of people there as well which was a shock. Malachi wants to prove a point to his wife's new fiance, so he follows him in the car, there's a chase down the motorway to the city square. By three o'clock it was heaving! But it's a four-page rant of dialogue, Billy's dialogue. None of the crowd ruined a take. That's the beauty of Billy's dialogue. The public applaud had to be included in the take."
Was the script everything you'd hoped it would be?
"The star of the show is Billy and his writing. It's a joy to perform. When it goes at the breakneck speed you find yourself laughing a few minutes later and being incredibly moved. It's machine-gun dialogue. Audiences can cope with that, people think you have to slow it down because they can't cope with it. But we're a lot cleverer than people realise."
We get to see Malachi having sex with a letter box as well don't we?
"Yeah, I'm afraid we do! He's never been unfaithful to his wife, but when he accepts that she's moved on he decides to completely go for it. He meets a young girl who turns out to be a prostitute. She remembers that his wife used to be the Brown Owl!"
Did you learn how to drive a lorry for the part?
"We did a day at a lorry yard, but I doubt I could drive one! I did other research though and ended up watching that documentary on dogging! Apparently 70 per cent of lorry drivers do it. I couldn't believe it!"
His son Glen also works for the firm doesn't he?
"Yeah he loves his son to bits even though he admits that Glen's mother has had more influence on bringing him up. Malachi, like most truck drivers, is a very solitary figure. It's just you on your own in your cab, but you get the feeling that's where he's happiest."
So will you be watching the first episode when it screens?
"Yes... to watch Billy's words come to life! I'm sure the audience will really love it. There's nothing on to compare it to right now."
Did you do any toning up with regard to your naked scene?
"No! That wouldn't fit in with being a truck driver, sitting in a cab and eating friend food. I was fairly trim before this because I was doing Spamalot every night and the director actually asked me to put on some weight before it started, which was lovely! I have a very sweet tooth so I ate anything with caramel. I put on a stone and half from Spamalot to this. Now I have to do the reverse, which is much harder!"
Sean has been writing about all things telly for over 10 years and in that time he's been lucky enough to interview stars like Ian McKellen, Tom Hardy and Kate Winslet. His favourite shows are The Great British Bake-Off, People Just Do Nothing and Succession and in his spare time he enjoys drinking tea, doing crosswords and watching football.
Get the latest updates, reviews and unmissable series to watch and more!
Thank you for signing up to Whattowatch. You will receive a verification email shortly.
There was a problem. Please refresh the page and try again.