The Fallen Idol (1948) | Carol Reed's Graham Greene-penned thriller restored on Blu-ray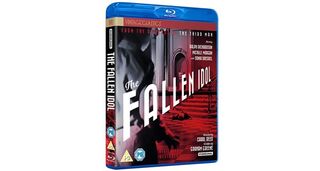 Out now on DVD, Blu-Ray and EST from StudioCanal comes 1948's The Fallen Idol.
Painstakingly restored to its former glory, this gripping thriller is the critically acclaimed first collaboration between Oscar-Winning director Carol Reed and novelist Graham Greene who, following the success of the film, would go on to work together on two further masterpieces of British cinema, The Third Man (1949) and Our Man in Havana (1959).
Based on Greene's short story, The Basement Room, The Fallen Idol tells the story of Phillipe, the lonely eight-year-old son of a foreign diplomat who craves the tall tales told by embassy butler Baines (Ralph Richardson). But when Baines' stern housekeeper wife (Sonia Dresdel) falls to her death, a bewildered Phillipe embroils himself in the investigation, with potentially disastrous consequences for his hero…
Carol Reed's melodrama, told entirely from Phillipe's perspective, makes the most of its enormous staircase setting, the natural innocence of it's young star (played by non-actor Robert 'Bobby' Henrey), and the magnetic presence of Richardson (who gives a very sympathetic portrayal). And, on its release, it went on to win both the BAFTA for Best British Film and The International Award for Best Screenplay at The Venice Film Festival. This is one of Reed's most engrossing films, showing great subtly, dry humour and understanding of character.
Special extras:
• Director Guy Hamilton remembers The Fallen Idol
• Locations featurette
• Interview with film historian Charles Drazin
• Interview with The Fallen Idol fan Richard Ayoade
• Restoration comparison
• Interview with Robert Henrey (by Kevin Brownlow)
The Fallen Idol is part of the Vintage Classics collection – showcasing iconic, fully restored, British films. For more information, check out: www.facebook.com/vintageclassicsfilm (opens in new tab)
http://www.youtube.com/watch?v=S55LGwqRKLg
Get the latest updates, reviews and unmissable series to watch and more!
Thank you for signing up to Whattowatch. You will receive a verification email shortly.
There was a problem. Please refresh the page and try again.