The Strange Case of Dr Jekyll and Miss Osbourne (1981) | Blu-ray release – A ravishingly surreal take on Robert Louis Stevenson's classic Victorian tale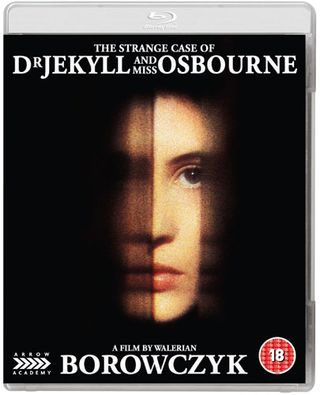 From Arrow Video, comes the Blu-ray release of Polish director Walerian Borowczyk's 1981 French-West Germany cult-worthy arthouse erotic thriller, The Strange Case of Dr Jekyll and Miss Osbourne, featuring genre faves Udo Kier, Patrick Magee and Howard Vernon.
A genteel engagement party for Dr Henry Jekyll (Udo Kier) and his fiancée, Fanny Osbourne (Marina Pierro) descends into murder and mayhem when a madman breaks into Dr Jekyll's London townhouse and starts raping and killing his guests. But why is the good doctor never around whenever another guest comes under attack?
We know the answer, of course, but director Walerian Borowczyk's arthouse take on Robert Louis Stevenson's classic allegorical tale is a ravishingly surreal oddity laced with dark humour; an important work within the director's oeuvre; and one of the best interpretations of the iconic story.
While Borowczyk is best known for his sensational erotic offerings like The Beast and Immoral Tales, The Strange Case of Dr Jekyll and Miss Osbourne is a poetically macabre offering that's ripe for reappraisal, and this meticulously-curated Arrow release is the way to go. It also looks and sounds fantastique, and makes for a great companion piece to the Borowczyk retrospective box set that Arrow released back in 2014 (and which quickly sold out).
THE ARROW ACADEMY BLU-RAY RELEASE Featuring a brand-new 2k restoration, the Arrow Academy dual format release contains both the French and English versions of the film, as well as a new audio commentary based an from archival interviews with the director that have been intercut with new interviews with key members of the film's crew, including cinematographer Noël Véry. Plus, there's a host of featurettes and shorts celebrating Borowczyk cinema, as well as an insightful booklet featuring articles and archive material.
***READ MORE ABOUT THE FILM, HERE*** http://youtube.com/v/i4lnNuJBqtw
Get the latest updates, reviews and unmissable series to watch and more!
Thank you for signing up to Whattowatch. You will receive a verification email shortly.
There was a problem. Please refresh the page and try again.