The Vampire Lovers (1970) | DVD release – Hammer dares to bare in the seductive Gothic chiller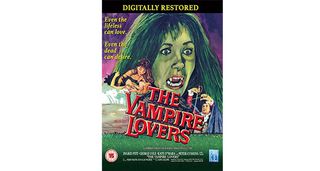 From Final Cut Entertainment in the UK comes the DVD release (on 14 March 2016) of a digitally re-restored print of the 1970 Hammer horror classic, The Vampire Lovers.
The arrival of the exotic Marcilla (Ingrid Pitt) causes a stir in the Austrian province of Styria. Women seek Marcilla's friendship and her beauty entrances men. When she stays at the home of General Spielsdorf (Peter Cushing) and his niece Laura (Pippa Steele), the only clue to Laura's subsequent death is an unusual wound on one of her breasts. Now calling herself Carmilla, the enigmatic stranger moves in with a nearby English family. Like Laura, the naïve Emma Morton (Madeline Smith) soon falls ill. As her life hangs by a thread, the terrible truth about Carmilla is finally revealed...
The Vampire Lovers was the first in Hammer's Karnstein Trilogy, a big-money spinner when it was first released, thanks to the added quota of nudity, sex and violence. It turned Polish actress Ingrid Pitt into the studio's newest screen queen and featured some famous British stars including Douglas Wilmer (aka TV's original Sherlock Holmes), George Cole (Minder), Kate O'Mara (Dynasty) and Hammer regular Peter Cushing.
This DVD presentation (click here to buy from Amazon (opens in new tab)) is a companion piece to Final Cut Entertainment's Blu-ray release that came out in November 2014, and includes the same fantastic extras.
• New Blood: Hammer Enters the 70s (25-minute documentary)
• Audio commentary with Marcus Hearn and Jonathan Rigby
• Stills Gallery
• Original Trailer
• Restoration Comparisons
• Subtitles for the Hard of Hearing
Thank you for signing up to Whattowatch. You will receive a verification email shortly.
There was a problem. Please refresh the page and try again.