Tobi Bakare: "The producers knew I'd got married – they definitely planned JP's storyline around my life!"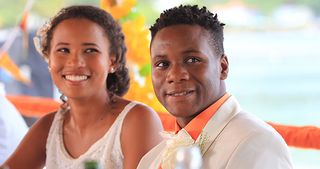 (Image credit: BBC/Red Planet Pictures/Denis Gu)
There'll be wedding bells on Saint Marie this week, as JP prepares to marry his girlfriend, Rosie. But on an island with an outrageously high murder rate and a disproportionate number of lovesick law enforcement officers, will JP make it to the church on time? Or will a few insensitive comments from Dwayne send him packing?
Here TV Times (opens in new tab) talks to star Tobi Bakare (opens in new tab) about JP's chances of a happy ending, why he thought he would be filming the series in Mexico and much more besides…
It's been a jam-packed series for JP – he was a single man in episode one and now he's about to get married!
"Yes! I was very thankful to get such an emotional, personal storyline, because really it's a police show. It's great to show JP's personality outside of work."
Does he get cold feet before the wedding?
"JP has a little bit of a wobble, which is something that a lot of people go through, especially when the relationship is so fresh. Marriage is a scary thing and it's all very new for him. He tries to get through it by relying on advice from people around him, like Humphrey. Although maybe he's the wrong person to ask as he's divorced!"
You're no stranger to a whirlwind romance are you?
"No, my marriage was also very quick – I met a girl, Prisca and then six months later we got married, so it was definitely a whirlwind! The producers knew this and I definitely think they planned JP's storyline around my life. I had lots of experience and memories to draw on. It was all very similar but I got my advice from more reliable people!"
Who did the most wedding planning – you or JP?
"Well I have a guilty confession – I was filming last year's series of Death in Paradise in the Caribbean while all the work was going on back home. My wife did a lot of the preparation and we had fantastic support from our friends and family. JP's wedding is the same – Rosie does a lot of the work and JP just says yes!"
It's not a bad honeymoon, bringing your wife to Guadeloupe for six months, while you film the show!
"At first I was the best husband ever, but after a couple of months she couldn't wait to get back home! It was amazing to have her here with me though."
Do the cast have much time to socialise in the evenings?
"It's a really fantastic ensemble show and we're all friends now, so we hang out when we get the chance. Kris [Marshall, who plays Humphrey] and I will often have a drink at the hotel bar and I have a brilliant relationship with Josie [Jobert], who plays Florence. Danny [John-Jules, aka Dwayne] had a few parties this year because his villa was ridiculous, it was like an Austin Powers mansion!"
Is it true that Don Warrington, who plays the Commissioner, taught you how to swim?
"Yes, I'd been to Hackney Baths with my older brother but we always ended up just standing in the shallow end, we never swam! I tried to jump in the sea in Guadeloupe and Don said, "That's not swimming!" in his very regal manner. So he was very patient and taught me how. Kris helped as well, and lots of guest stars chipped in too! Now it's my turn to teach Don how to drive a manual car…"
Have you found any downsides to working in the Caribbean?
Hot weather equals mosquitoes and they really came for me this series, they attacked me in their swarms, so I have scars all over my body. Other than that it's a beautiful country and I love running on the beach, and swimming now that I know how.
it.
Your family must be excited to see you on such a hit show?
"My parents are absolutely chuffed. They never ever know who the murderer is and they never understand what I'm saying but they love the show!
"The only thing is, when I got the job I told my mum I was going to be filming in South America. I googled Guadeloupe, and there's a place in Mexico with the same name, so my family thought that's where I was going. Eventually I found out I was heading to the Caribbean… I'm not much of a traveller!"
Get the latest updates, reviews and unmissable series to watch and more!
Thank you for signing up to Whattowatch. You will receive a verification email shortly.
There was a problem. Please refresh the page and try again.