Tom Burke is JK Rowling's Strike: 'He's a cross between Cracker and Columbo!'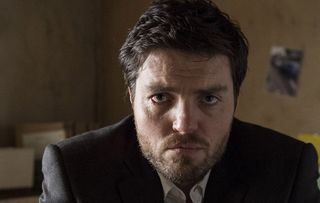 (Image credit: BBC/Bronte Film & TV Ltd/Steffan)
Tom Burke opens up about playing JK Rowling's shabby sleuth Cormoran Strike in the new BBC1 crime thriller
He may not be a wiz at Quidditch or casting spells, but JK Rowling's shrewd, dishevelled private eye Cormoran Strike is just as brilliant as her boy wizard Harry Potter.
The detective is the hero of a series of best-selling novels that the author has written under the pen name Robert Galbraith and now he is being brought to life in BBC1 drama Strike, which sees The Musketeers' Tom Burke take the title role. Here Tom reveals all…
How would you describe Strike? "I heard Chris Evans on the radio describe Strike as a cross between Cracker and Columbo and I like that! He is a huge man so I started lifting heavy things and eating more to bulk up! He is actually quite fragile though. He has had this exotic, weird childhood and is very gruff, but he has real heart, warmth and wit and he is a grafter and very intuitive."
Strike is assisted by his new office temp, Robin Ellacott (Holliday Grainger). What relationship do they have? "It's not like Mulder and Scully in The X Files where you think, 'Maybe there's something there, maybe there's not.' For Robin and Strike, it's always there underneath everything. Strike is surrounded by people who've done something evil and Robin walks into his life as the polar opposite of that. She is generous, caring, giving and insightful and the perfect woman for him, but that is inconvenient in many ways…"
He is a former military policeman and wears a prosthetic leg after losing a limb in Afghanistan. Has it been a challenge portraying that? '"Yes, I have a close relative with polio and I see a similar impact on their body so I wanted to get it right. I spent a day with a movement director, but also chatted to my body double and our adviser who both have the same injury. I spent a day practising walking up and down stairs and sitting down and standing up. You barely notice it when he's walking, but if he has to go upstairs or run, he's really in pain."
What was it like meeting JK Rowling? "It was exciting, but by the time I got the job, I didn't have that much time for a long, in-depth chat with her. But there was a feeling we were on the same page and she was always available to answer questions. I had a lot of her notes that had gone to the writers and that did inform my way of thinking about him. She also said to me really early on, 'I am planning on writing a lot.' And I thought, 'Great!'"
http://www.youtube.com/watch?v=IVrOvY-APH8
Are you still in touch with the cast of The Musketeers and do you miss it? "I am still in touch with them all. I wouldn't say I miss it because this has been such a different thing to do and enjoyable in its own way. But with the genre of The Musketeers, you felt invited to stretch what you were doing and throw some shapes that you can't do if you are wearing jeans and I enjoyed the romance of that."
Are you a fan of whodunits? "Yes I have got massive soft spot for Joan Hickson's Miss Marple. I think she is just amazing, I could just watch her in that forever, it is just so light and perfect and detailed, but quite dark when she becomes this avenging angel at the end. But I have always enjoyed whodunits."
Strike: The Cuckoo's Calling begins on BBC1 on Sunday, August 27 at 9.05pm
Get the latest updates, reviews and unmissable series to watch and more!
Caren has been a journalist specializing in TV for almost two decades and is a Senior Features Writer for TV Times, TV & Satellite Week and What's On TV magazines and she also writes for What to Watch.
Over the years, she has spent many a day in a muddy field or an on-set catering bus chatting to numerous stars on location including the likes of Olivia Colman, David Tennant, Suranne Jones, Jamie Dornan, Dame Judi Dench and Sir Derek Jacobi as well as Hollywood actors such as Glenn Close and Kiefer Sutherland.
Caren will happily sit down and watch any kind of telly (well, maybe not sci-fi!), but she particularly loves period dramas like Call the Midwife, Downton Abbey and The Crown and she's also a big fan of juicy crime thrillers from Line of Duty to Poirot.
In her spare time, Caren enjoys going to the cinema and theatre or curling up with a good book.
Thank you for signing up to Whattowatch. You will receive a verification email shortly.
There was a problem. Please refresh the page and try again.