FIRST LOOK: Tom Burke, Holliday Grainger start filming JK Rowling's Strike novels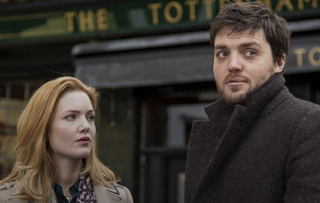 Tom Burke and Holliday Grainger have started filming their roles in the eagerly anticipated BBC adaptation of JK Rowling's detective novels
A new small-screen detective and his sidekick hit the streets of London in the first pictures from the TV adaptation of JK Rowling's crime novels, which she wrote under the name Robert Galbraith.
War & Peace star Tom Burke, 35, stars as private eye Cormoran Strike and Holliday Grainger, 28, as his assistant, Robin Ellacott, in the hotly anticipated BBC1 series.
The cast began shooting the crime drama on Sunday in central London.
And images from the first day of filming, released exclusively to the Press Association, show the British stars in character, with Strike, hands in his coat pockets, walking around London and Strike and Robin standing outside his favourite pub, The Tottenham.
JK, 51, wrote the Strike series of novels under the pen name Robert Galbraith.
But the Harry Potter creator caused a sensation when she was unmasked as the true author of The Cuckoo's Calling, the first book in the series, published in 2013.
The author's cover was blown by a legal firm that had worked for her and the book, which had received critical acclaim but sold just 500 copies, immediately became a best-seller.
JK went on to publish two more Strike books, and sales of the series rocketed to more than four million copies worldwide.
The Cuckoo's Calling is being adapted into three hour-long episodes on BBC1, followed by two for The Silkworm and two for Career Of Evil.
It is expected that the Strike series will be broadcast next year.
The Musketeers star Tom plays Strike, a war veteran turned private detective who has both physical and psychological wounds.
His background as a former military police investigator in the Special Investigation Branch prove crucial in solving three complex cases, which have eluded police.
Lady Chatterley's Lover star Holliday, whose credits also include Cinderella and Anna Karenina, plays Robin.
Though she starts work as a temporary secretary, managing Strike's chaotic life from his tiny office in London's Denmark Street, she soon realises her full potential.
The drama is being made by Bronte Film And Television, which also produced The Casual Vacancy, the adaptation of JK's first book for adults, starring Keeley Hawes, Michael Gambon and Rory Kinnear.
JK, an executive producer of the new drama, has hinted at more Strike books, saying they could eventually outnumber her Harry Potter titles.
And she has said of the cast: "We've now secured two superb actors in the lead roles and I think they will create something very special together."
The Strike series has been billed as 'event television across the world' and snapped up for broadcast on HBO in the US.
Filming continues in London until April.
Get the latest updates, reviews and unmissable series to watch and more!
Thank you for signing up to Whattowatch. You will receive a verification email shortly.
There was a problem. Please refresh the page and try again.