Top Gear 'is as entertaining as ever', according to early review of rebooted series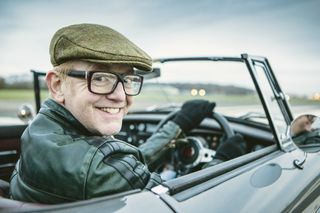 (Image credit: BBC World Wide/Rod Fountain)
The new series of Top Gear is 'as entertaining as ever', according to an early review.
The show has been plagued by reports that new hosts Chris Evans and Matt LeBlanc are at loggerheads and that members of the audience walked out before the end of taping.
The full Top Gear line-up (BBC)
The newly launched show will return to television screens this weekend, featuring the all-new line-up of Evans, Friends star LeBlanc and four other hosts, plus The Stig.
However, the pair appeared to have a 'healthy, humorous rivalry' at the first taping of the show open to the public, the Guardian reported.
(BBC World Wide/Mark Yeoman)
Early on in the recording Evans admitted to being very nervous and struggled with his lines.
"At one point he had his head in his hands and pretended to beat it on a car bonnet after getting stuck on a piece about the return of The Stig," the newspaper said.
(BBC World Wide/Mark Yeoman)
LeBlanc has previously dismissed claims that he is 'at war' with Evans and admitted he had not expected the negativity the show has received prior to airing, or the anger of fans of the original line-up of Jeremy Clarkson, Richard Hammond and James May.
The show's popular Star In A Reasonably Priced Car segment will be replaced with Star In A Rallycross Car in the new series, which will feature a new car and a new track.
(BBC Worldwide/Gus Gregory)
The Social Network star Jesse Eisenberg and chef Gordon Ramsay will be the first guests.
The newspaper said: "The new series retains the high-speed hallmarks of the old and – while it may have a lot of work to do to get past the Clarkson purists – it remains as entertaining as ever. Which will be bad news to those who wish it ill."
Top Gear returns to BBC Two on Sunday, May 29 at 8pm.
Get the latest updates, reviews and unmissable series to watch and more!
Thank you for signing up to Whattowatch. You will receive a verification email shortly.
There was a problem. Please refresh the page and try again.