TV chef Rick Stein: 'Thirty years on TV? I need to celebrate!'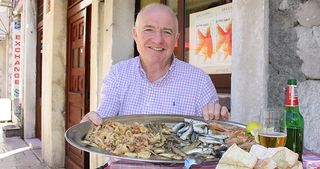 (Image credit: BBC/Denhams/Arezoo Farahzad)
After 30 years of cooking on TV, many of which spent on foodie adventures around the world, Rick Stein's taste buds have been well and truly assaulted.
As he's settling down to chat about his latest culinary journey, Rick Stein: From Venice To Istanbul (BBC2, Friday), the modest Cornishman is genuinely shocked when TV Times tells him he's now been on our screens for three decades.
How do you feel about the fact that you've been on our screens for three decades?
"Is it really 30 years? It feels like I just started. No, I got my first TV series, Taste of the Sea, in 1995 – 20 years ago!"
Ah, but wasn't his first ever TV appearance on a 1985 BBC series Floyd on Fish, alongside the infamous Keith Floyd, the flamboyant soon-to-be celebrity cook, known as much for his copious wine drinking as his concoctions?
"It was! You're right – so that's 30 years. I need to celebrate! It was never in the grand plan. I'd opened a small bistro, The Seafood Restaurant in Padstow in 1975 and Keith often visited because his wife was from Port Isaac, where Doc Martin is filmed. He asked me to do a guest spot on his new TV show and it turned out to be a hoot – he kept calling me Nick! He was taking the mickey, saying, 'Oh, Nick…Rick…you chefs are two a penny.'
"There was a bit of the older man keeping the younger man in his place, but I didn't mind as we got on wonderfully.
"I certainly never thought that 30 years later I'd still be in front of a TV camera, much less travelling the world because of it."
Did you find any new tastes on your travels?
"Trust me, I found plenty to excite my palate!"
So why travel from Venice to Istanbul?
"Well, many people know that I can't eat a dish without knowing its history, and when a friend started talking about one of the world's greatest civilisations – the Byzantine Empire – an idea started forming. I wanted to uncover the little-known history and cuisine of that Empire, which stretched along the eastern Mediterranean from Venice to Albania, to Croatia, Greece and Turkey.
"I like to think of Venice and Istanbul [known in ancient times as Byzantium] as two large bookends, propping up a shelf full of stories about the cooking of the Eastern Mediterranean."
We saw from last week's first episode that you've a soft spot for Venice…
"I do, I've been at least eight times and never tire of it. I remember my first visit in 1969 with my first wife Jill, and best friend, Johnny and his wife. We camped across the water on landside and I remember eating pizza covered in oregano and didn't like it! 'What's this strange herb they use on everything?' I thought – now I can't get enough of it.
"The challenge in Venice, which played a major role in Byzantine history, was finding places that didn't serve touristy food. Of course tourism's important, but can also be depressing. I got talking to an English couple on a vaporetto who'd been charged 34 euros each for lasagne. Yet that didn't stop me finding a tiny restaurant in San Polo, where I ate exquisite Bigoli in Cassopipa: thick spaghetti pasta cooked in a shellfish sauce with a spice mix – nutmeg, cardamom, cinnamon and cloves – that could only have come from the East. The restaurant had a large sign outside saying, 'No Pizza, No Lasagne, No Menu Turistico' which made me chuckle."
You arrive in Croatia this week. Any food highlights?
"Do you know, I had one of the most memorable meals of the whole trip in Croatia. We were driving between Dubrovnik and Split and stopped at a little tavern on a quayside. We asked for a menu, which didn't exist, but the owner asked if we'd like his cuttlefish black risotto, which was delicious, glorious in fact.
"Both Albania and Croatia have good produce – their cheese, seafood and goat is second to none. Food just doesn't vie for attention like it does in Greece. Albania feels like a land that time forgot. The cooking's simple after 45 years of Communist rule, but boy, did I enjoy lamb's innards wrapped in intestines, cooked over charcoal. It sounds disgusting but it's not."
We'll take your word for it! Greece plays an important part in your journey too…
"I like to think I take viewers by the hand and take them to the sorts of places I love, where people are still in touch with their past. You really feel that in Greece. Skirting the shorelines of the Ionian and Aegean seas and going into the mountains of Greece, there's a real sense of ancient landscape and recipes that have lasted the course of time.
"Like the Greek pie maker and her daughter in a Zagorian village in the Pindus Mountains who made the best chicken pie with filo pastry I've ever tasted. I do all of my cooking in the series at a house on the beautiful island of Symi, which has a breathtaking vista saying exactly where we are. Seafood risotto, Tave Kosi [Albanian baked lamb with rice], Greek souvlaki and Turkey's Hunkar begendi [Lamb stew with aubergine puree] were all highlights."
Was Istanbul a fitting end to your odyssey?
"It was exactly that. The home of former Byzantium and Constantinople, modern-day Istanbul is very different to the Mediterranean coast of Turkey that people typically know about.
"Part Muslim, part Christian, there's a glorious mix of cultures that comes out in the food, which is definitely influenced by the East. I ate fish sandwiches from little kiosks by the water, where fresh mackerel's served in bread and you then take a sip from a little pot of hot pickles.
"They have wonderful bluefish – great in simple stew – and I was overcome by the perfume of rose petals used to make traditional Turkish Delight in one shop we filmed. I really hope viewers get an idea of what food of the Byzantine Empire would have been like and how our much-loved Mediterranean dishes have developed over time. We covered 3000 miles over six months, but I enjoyed every second."
There can't be much of the world left uncovered by you, Rick…
"Oh there's plenty! There's South and Central America and I haven't done China. This trip was closer to home so I think I'm due an exotic, far away adventure next. Watch this space…"
Get the latest updates, reviews and unmissable series to watch and more!
Thank you for signing up to Whattowatch. You will receive a verification email shortly.
There was a problem. Please refresh the page and try again.