Uncle from hell Nick Helm: 'People are disappointed I'm not really like Andy'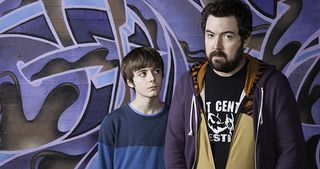 (Image credit: BBC/Baby Cow/Chris Brock)
Nick Helm stars in a new series of Uncle, one of the surprise comedy hits of 2014: a six-part series about an unemployed musician, played by stand-up comic Nick, who forms an unlikely friendship with his prissy 12-year-old nephew, Errol (Elliot Speller-Gillott).
Series two starts on BBC3 on Tuesday and we caught up with Nick to find out what's happening...
Tell us about last year's finale...
"Errol nearly killed himself when he took an accidental drug overdose while Andy was looking after him, so at the end of series one, Andy had a restraining order put on him, saying he's not allowed anywhere near Errol."
So what happens next?
"Series two basically picks up a year later and we find that they're still sneaking around with each other – though Errol's parents Sam and Ben [Daisy Haggard and Nicholas Burns] don't know it."
Has the relationship between Andy and Errol changed?
"The dynamic between Andy and Errol has changed slightly. In the first series they had this messed-up mentor relationship where Andy would give terrible life lessons and Errol sort of looked up to him.
"This series, they're more on a level playing field. Errol questions Andy a lot more. Also, Errol's voice has broken, he's starting to be interested in girls, and he makes a lot of problems for Sam."
Is filming more difficult because Elliot is only 14 working a restricted day and needing a chaperone?
"Everything will relax a bit when he turns 16, but until then he has to be taken out of the room every time there's swearing. When that happens, I talk to his mum in a wig – she doubles for him!
"I spend weeks not swearing anywhere near Elliot, but he always turns round to me and says, 'You realise I know all these words?' And then he'll list them all."
Are you anything like your character?
"People are often disappointed to find out that I'm not really like Andy. The most Andy thing I've done this month is to sleep in my clothes a couple of times. But that's about it. He likes smoking drugs and I prefer a beer. We're pretty different, really."
Get the What to Watch Newsletter
The latest updates, reviews and unmissable series to watch and more!