Vault of Horror | Blu-ray release - Horror and humour combine in this starry British anthology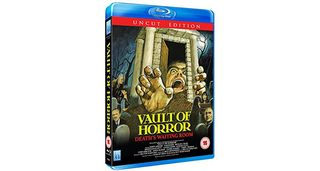 Having already mined EC Comics for 1972's Tales from the Crypt, UK's Amicus Film Productions drew on five more tales for the following year's Vault of Horror, Amicus' latest horror anthology. Asylum director Roy Ward Baker was called in after original choice Freddie Francis declined to oversee a mixed bag of horror and humour, which upped the horror quota, and boasted a starry line-up that included cameos from Robin Nedwell and Geoffrey Davies, who were best known at the time as doctors Duncan Waring and Dick Stuart-Clark in LWT's popular Doctor in the House sitcom series.
The wraparound story sees five men entering an elevator in London's Millbank Tower, where they are taken down to an underground vault designed like a gentlemen's club. Fuelled by scotch and few gins, the men take turns in describing their recurring nightmares.… only they're not…
Midnight Mess sees Daniel Massey trying to kill his sister (Anna Massey) for her inheritance, only to find himself encountering a restaurant full of vampires; The Neat Job finds Glynis Johns driven mad when she fails to meet new hubby Terry-Thomas's exacting domestic standards; This Trick'll Kill You has an Indian rope trick snap back when it is stolen by Curt Jürgens' nasty magician; Bargain in Death puts a humorous spin on Edgar Allan Poe's Premature Burial short story with Michael Craig waiting to be released from his interment; and Drawn and Quartered sees future Time Lord Tom Baker's artist using voodoo to get his revenge on the art dealers who have swindled him.
From Final Cut Entertainment comes the first uncut Blu-ray release which restores a couple of key scenes previously censored from the film. This disc looks and sounds terrific; and while it doesn't include any extras, it's definitely a worthwhile addition to any horror film collection.
Get the What to Watch Newsletter
The latest updates, reviews and unmissable series to watch and more!