Wanderlust star Steven Mackintosh: In our first sex scene Toni Collette and I broke a car seat!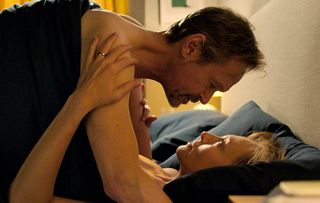 (Image credit: BBC / Drama Republic)
Toni Collette appears opposite Steven Mackintosh as a therapist in a new drama about sex and marriage…
Toni Collette stands in a spacious kitchen with a glass of wine in her hand and shares a joke with Steven Mackintosh, while the director resets for another take on Wanderlust. The co-stars have a great chemistry and although their characters are experiencing a sticky patch in their marriage, the warmth between them is still there when the cameras begin to roll again.
What's On TV is in Manchester on the set of a very original and very raunchy BBC1 drama that's sure to start conversations in living rooms – and bedrooms – all over Britain. It was always going to take a special project to tempt a Hollywood star like Toni (whose big screen hits include The Sixth Sense and Little Miss Sunshine) to make her first appearance on British TV and Wanderlust is certainly that…
http://www.youtube.com/watch?v=C0uk5M4osV8
The funny and honest six-part series, which is co-produced by Netflix, deals with mid-life attitudes to sex, intimacy and desire, follows husband and wife, Alan and Joy Richards, as they try to bring the spark back to their relationship. They have two almost grown-up children and still love each other dearly, yet soon realise it will take a bold new approach to rekindle their passion.
During a break in filming, we spoke to Toni Collette and Steven Mackintosh, to find out more about the married couple at the centre of Wanderlust and how they broke a car seat during their first sex scene!
What made you want to be in Wanderlust?
Toni Collette: "I think it's the best writing I've ever worked with in my whole life and one of the best jobs of my career, so I can't believe my luck. Nick Payne, who created the series, is a genius. It's truthful and original and has a serious funny bone too. I knew immediately that I would just die if I didn't get to do this, that's how much I loved it. But the best thing is there are no heroes and villains, it's just about real life where people get things wrong sometimes."
Steven Mackintosh: "Yes the writing really was fantastic. This could be anyone and it's not the story of a specific marriage, but it's also one many couples will relate to. 'How do we make this work after being together for so long? Is there another way to do this?' I watched it with my wife and she asked if we improvised bits, but Nick writes every 'um' and 'err' that's in there. That's Alan grappling with what he wants to say and how to say it, I love those meandering sentences because they feel so real."
How do we find Joy and Alan at the start of Wanderlust?
Toni: "Joy is a therapist, who's recovering from a serious bicycle accident that's made her reassess her life. It made her wake up and started to question everything. She adores Alan, but has felt unsatisfied with the sex in their relationship for some time and is brave enough to tell him that she wants to try a different approach. It seems unconventional, but who made up these rules anyway?"
Steven: "Alan is a teacher and has an order to his life. His life is fairly mapped out, which he probably quite likes, but Toni thinks it might be time to shake up that order. There's no question that they love each other and while he's reluctant to face up to their problems at first, he's willing to try something new to save what they have."
What was it like doing your first sex scene together?
Steven: "It was really early on in the shoot and we were doing a sex scene in the car. Toni had bruises on her knees because she had to straddle me and we broke the seat! We didn't know each other very well, but we watched it back a few days ago and it's really good. It's real and funny and clumsy and awkward. It was a very spontaneous moment for them."
Do you think the series will start some conversations?
Toni: "I think there will definitely be couples sitting there thinking: 'That's us!' So it might be uncomfortable viewing for some, but I don't know if that's a bad thing. My biggest dream is that it's going to be on Gogglebox, because watching other people watching it would be amazing!"
Could it spark a sexual revolution?
Toni: "The fact you're asking that is great. We all subscribe to this way of living in a very unthinking way and this just gives you another perspective. This is it. We're going to die one day! And people got married when they died very young and now we live much longer lives, so is that sustainable for people. We're all different after all."
Did you have any reservations about doing something with so much sex in it?
Toni: "Not at all, I mean it's a part of life and it's nice for it to be out in the open. I think I got quite used to it by the end!"
Wanderlust begins on Tuesday 4th September at 9pm on BBC1
Get the latest updates, reviews and unmissable series to watch and more!
Thank you for signing up to Whattowatch. You will receive a verification email shortly.
There was a problem. Please refresh the page and try again.