Why Daniel Radcliffe's new show is a Gamechanger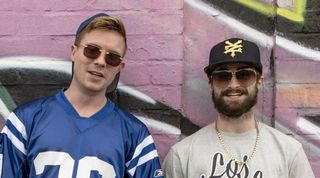 Harry Potter star Daniel Radcliffe has well and truly left behind Privet Drive with his latest role as the creator of a bloodthirsty virtual underworld billed as 'the greatest British coding success since Bletchley Park'.
In new BBC drama The Gamechangers, Dan stars as Sam Houser – one of the British designers of video game Grand Theft Auto, where players take up criminal missions for rewards: hijack cars, kill policemen, knock down pedestrians. In later incarnations, the game includes torture scenes and the ability to hire and kill prostitutes.
Daniel Radcliffe as Sam Houser (Joe Alblas/BBC)
In 2013, the most recent incarnation – GTA:V – became 'the fastest-selling entertainment product in history' when it earned US$1billion in just three days.
But the action of The Gamechangers takes place in 2002, five years after the game's first release, when video game company Rockstar Games became caught up in a three-year legal battle with Christian lawyer Jack Thompson (Bill Paxton).
Now disbarred, Thompson – a crusader against perceived 'obscenity in modern culture" – had brought lawsuits in the US against the game's creators since 1997. He argued they were 'murder simulators', warming teenagers up to commit copycat violence.
GTA was, he said, 'the gravest assault upon children in this country since polio'.


Bill Paxton as Jack Thompson (Joe Alblas/BBC)
And that's where our boy wizard comes in. Dan will be telling the compelling back story of the private school boy and his brother from south-west London who were dragged through the courts to face down Thompson's charges that the game had inspired a series of high-profile murders and attacks.
It's a fascinating battle that began with a group of video-game designers in a small office in Dundee, but Dan wasn't able to get the story first-hand from Sam Houser himself. The notoriously private Houser denied any interviews for the role, and the company Rockstar Games filed a lawsuit against the BBC for copyright infringement when it was announced.
Richard September as DJ Jam, Ian Keir Attard as Dan Houser, Joe Dempsie as Jamie King and Daniel Radcliffe (Joe Alblas/BBC)
The BBC have said they are in talks with the company's lawyers, and released the statement: "This drama is for an adult audience and has not been authorised by the producers of Grand Theft Auto. Rather, it is based on court documents and interviews with many of those involved in the real events behind this compelling story."
Writer James Wood described it as 'staggeringly ambitious' for the BBC in both subject matter and the filming required. It's a story about 'two clever, driven, dynamic, focused, witty men who come from fiercely opposing viewpoints' and one that needed to be told.
"The story is about the tension between freedom of speech and a need to protect kids; it's about the clash between an older generation and the young; and about the difference between European attitudes to sex and violence as opposed to American ones. It's a story that asks whether these violent video games can affect people's minds and behaviour – and that's not a question I think we've fully answered as a society," said Wood.
(Joe Alblas/BBC)
Dan said his own interest in this role came from playing the video game intensely as a child. It was 'a huge part of my life growing up', he told Radio Times – the 26-year-old admitting he still plays GTA and Call of Duty.
He also has a lot in common with Sam Houser: "We're from very similar backgrounds – he grew up one postcode away and also has one parent who is an actor, and grew up around the entertainment industry. Our schools played each other at football – that's how close we were.
"In New York, we live in a very similar area so I've since been walking around feeling like I'm going to bump into him and if I see him I won't be able to resist saying hello. I'm coming at this film as someone who loved the games and who thinks they're really cool," he said.
(Joe Alblas/BBC)
He revealed a little more about what happened behind the scenes. South Africa stood in for New York in filming, there's plenty of stunts, and he had to stand on a box in most of his scenes with Game Of Thrones star Joe Dempsie, who's a few inches taller.
There's one scene that Dan might not be so keen to repeat: "I can't say too much as it's the last scene of the film, but there was an awkward moment because I got so into it.
"We rehearsed the stunt during the day when we went for a take later on, I assumed it was the same stuntman (as both were bald) but after the take, he seemed a bit shaken so I asked him if he was OK and he said 'No mate, can you actually not throw me?' Then I realised it was a totally different stuntman who had no idea of what I was about to do!" he said.
http://www.youtube.com/watch?v=a_m0KNcNCb8&feature=oembed
For Dan, this role is a bit of a gamechanger too. He's whiplashed in the past between different types of role: Harry Potter, full frontal nudity on stage in Equus, comical musicals like How to Succeed in Business Without Really Trying, and horror films from The Woman in Black to upcoming Victor Frankenstein. In between, there's been rom-coms and indie flicks. And this controversial role will continue to shake off his wizarding past.
(Joe Alblas/BBC)
Get the What to Watch Newsletter
The latest updates, reviews and unmissable series to watch and more!
PA Media is the national news agency for the UK and Ireland. With unrivalled access to the performers, productions and celebrities on both sides of the Atlantic, PA Media stories provide an irresistible glimpse into showbiz news. Bringing you all of entertainment's big moments. From daily soaps to film productions, we cover the shows that audiences want to know about with our previews, news and interviews.