Atlantis star Mark Addy: 'It's been a slog for someone knocking on 50!'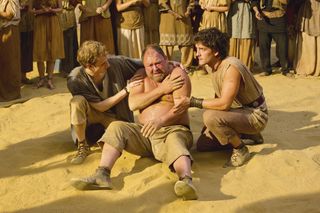 (Image credit: BBC/Urban Myth Films/Nick Briggs)
Atlantis (opens in new tab) star Mark Addy tells TV Times magazine (opens in new tab) why he's happy to be the butt of the jokes and go topless whenever necessary…
You shot to fame in 1997 movie The Full Monty. Does that still stay with you even now?
"Yeah, it's a long time ago now, but it caught the imagination and it still stands up in its own way. I didn't think it would play outside of Yorkshire because it had a very northern sense of humour, but I get letters from people who love it in Peru and Japan and I think, 'Wow, they got as much out of it as a British audience'. It's incredible."
You star as Hercules in Atlantis, and so far we've noticed that you spend a lot of the time shirtless!
"A couple of times, although not as much as Jack has done as Jason. Hercules is a big lad, but he's not bothered about that."
The show has so far been a success and is even getting a second series. Why do you think it's been a hit?
"It has tongue in cheek humour, action and adventure. And it's shameless entertainment really. We don't delve too deeply into the human psyche. It's about how are we going to escape from the perilous situation that we're in. I never got to be involved in any of the Indiana Jones movies, but this is as a close as I'm going to get!"
What do your family think of you starring in the show?
"It's nice to be doing something my kids can actually watch. They absolutely love it and the fact that it can make them interested in Greek mythology is not bad going in this day and age."
Hercules is the butt of most of the jokes in the series. Do you mind?
"No, not at all. Hercules does come in useful at times to be fair to him. Yeah, it does involve a lot of falling on my face and getting covered in stuff, but that's all part of it. He's courageous in his own way."
How would you manage in an evening's drinking contest with Hercules?
"I'd give him a run for his money. It would be a good night!"
Hercules has fallen deeply in love with Medusa (Jemima Rooper). Is that going to end well?
"You think? It's an interesting way of going about it because as soon as you hear the name Medusa you imagine the head of snakes and a stare which will turn you to stone. But she's not a baddie, well, certainly not yet."
The desert scenes and mountain landscapes in the series were filmed during a three-week shoot in Morocco. What was that like?
"When you're stood there in your leather gear and it's 103 degrees, you think: 'How can this get any hotter?' And then the director says, 'Right, everybody back on the horses!'"
Have you found it exhausting having to film so many action scenes?
"After hour five of filming that wrestling scene I thought, 'This is getting a bit tiring now!' It's been a bit of a slog for somebody who's knocking on 50! I did think to myself on several occasions, 'What was I thinking!', as I dangled upside down from a wire first thing in the morning."
Thank you for signing up to Whattowatch. You will receive a verification email shortly.
There was a problem. Please refresh the page and try again.