BGT 2011 winner Jai McDowall: 'I made bad decisions and went down the wrong road'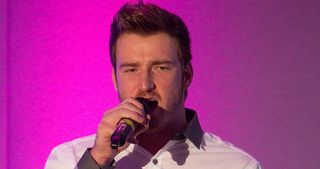 (Image credit: PA Archive/Press Association Ima)
The current crop of auditionees on Britain's Got Talent will all be dreaming of fame and fortune if they are lucky enough to win, but it's not all champagne and roses for those who triumph on ITV's variety juggernaut.
Ayrshire-born singer Jai McDowall, now 28, won the series in 2011 with his distinctive mix of classical and pop styles and he tells TV Times about the ups and downs of life after BGT...
What have you been up to since winning?
"I toured with Gareth Gates last year and I've been gigging in Scotland. I've also been doing some co-writing and recording for a new album and hopefully we'll get something out later in the year. We are going darker and rocky; we're hoping it'll be like True Blood meets Josh Groban."
Are you in touch with any other BGT contestants?
"I'm about to go on a theatre tour with Charlotte Jaconelli, who was part of Charlotte and Jonathan. It has been nice talking to someone from BGT about similarities in the way things happened.
"I've also performed with Lucy Kay and Collabro. Lucy and I have Twitter banter about Irn-Bru and haggis! And it's great that young guys like Collabro are singing that kind of music."
Have you seen the judges from your year?
"I've spoken to David Hasselhoff on Twitter, but I haven't come across any of them since. It would be good, though, because I liked most of them."
Simon was quite mean to you, wasn't he?
"I met him straight after I won and he said that my performance then was so much better than the first. I said, 'Yes, that's because you called me monotone the first time!' When I watched back I agreed with him though."
How has Britain's Got Talent changed things for you?
"It has made life in the music industry easier. I was singing in bands and at weddings and that was as far as I thought it would go, but the show gave me a platform to do bigger things than I thought I was capable of and opened doors. I really did have a brilliant time on the show."
Were you disappointed not to get a second album with Syco [Simon Cowell's record company]?
"Yes, it is like when you are sacked from a job, you're upset and think 'What am I going to do?' The first year after I won was magic because I had everything done for me, but after Syco I made bad decisions, signed with people I shouldn't have and went down a road that didn't suit me.
"But I've grown an awful lot in the last four years and I've learned skills I didn't have before so it all panned out in the end."
Any regrets about doing BGT?
"Definitely not. I'd do it again, but I'd tell my past self, 'Learn more about the industry,' because I was naive; I went in with blinkers on and just did what I was told. I've only just got to the stage now where I feel confident enough to have my own opinions."
Do you still watch the show?
"Yes, it's nice to see the competition! It's strange though, I remember the year after I won, it was hard to watch because I thought, 'I've been there and done that'. But now it's nice to see people with the same dream as I had getting to realise it."
How was it performing at the Royal Variety Show?
"Strange, surreal but brilliant and I hope to do it again some day. I walked around in a dream because there were all these people I had seen on TV like Penn and Teller, and Tony Bennett. I even kissed Nicole Scherzinger, and I panicked when Andrew Lloyd Webber walked past! Princess Anne was lovely, too; she even said she knew Tarbolton, where I am from."
Were you sensible with your winnings?
"Probably too sensible! I paid off the mortgage on my house and I spent the remainder on doing it up. I should have just run away to New York, but it was good to have a roof over my head."
What are your long-term plans?
"I have a lot of American fans so I'd like to make music and tour there. I have always loved everything American since I was a kid; it's all Disney's fault. I've also been modelling and I'd love to get into acting, but I want to try everything; you're a long time dead!"
Who are your career role models?
"I like Kelly Clarkson, she is amazing and came from a talent show as well and has now got a brilliant career. Her music is the sort I'd love to make because it is all from her heart. If I do go to America I want to go to Nashville and do a mix of country, rock and pop like that."
Get the latest updates, reviews and unmissable series to watch and more!
Thank you for signing up to Whattowatch. You will receive a verification email shortly.
There was a problem. Please refresh the page and try again.