Star Laura Main takes us behind the scenes on Call The Midwife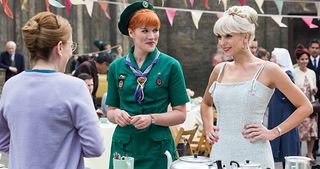 (Image credit: BBC/Neal Street Productions/Soph)
The fifth series of Call the Midwife (opens in new tab) has been a harrowing one for the residents of Nonnatus House and there's plenty more heartache to come... But on Sunday (BBC1), thankfully, there's some much-needed fun to be had as the nuns and midwives lay on a special tea party for local pensioners, while Dr Turner (Stephen McGann) and wife Shelagh (Laura Main) take their family on a well-deserved holiday.
"There's some hard-hitting stuff in this episode and we also come back to the Thalidomide story later in the series, which is terribly sad, but the tea party and the Turners provide some light relief this week," said Laura. "Call the Midwife always creates an amazing balance. I can be moved by an episode, usually to tears, and then laughing out loud at some of the situations."
Here, Laura, 34, takes us behind the scenes during the filming of Sunday's episode…
Banter, brews and buns
"It's all hands on deck with the pensioners' tea party and it's where we first see a mum-to-be who leaves us concerned that she hasn't been to see us…
"We shot the scenes in the middle of summer on the forecourt of the Nonnatus House set at our studio in Surrey but it was absolutely freezing.
"It takes ages to set up all the shots for big set pieces and these scenes probably took about half a day to shoot but we love any excuse to get us all together. It's a chance to have a good old natter and a catch up. We all get on so well, there's always great banter and we've even been known to break into song!"
Beware of the cake…
"We didn't really eat the cakes in the scenes. Continuity is always a worry, so you can't start tucking into the food you're not meant to, you could come a cropper!
"We're well fed throughout the day so usually there's plenty of cake around anyway that hasn't been out in the elements. If you do eat in a scene, you choose your plate wisely though; after five years, we have experience in rationing ourselves."
Beautiful and fabulous
"It's always nice to get dressed up for some celebration and Helen George [Trixie] looks absolutely amazing. But she does when she turns up first thing in the morning for filming as well! She is beautiful and dresses fabulously on and off screen.
"I don't have costume envy because I like Shelagh's style now, we've got a nice balance between feeling what's right for her and maybe wearing things that are more flattering than some of her previous traditional looks. She even had a new coat in the Christmas special!"
Stars in the making
"Working with Max Macmillan [15] and Alice Brown [2], who play the Turners' children Timothy and Angela, is lovely. We've seen Max grow up into a terrific young man; he's really smart and a natural. He really does play the piano, too; he's multi-talented. He and Stephen McGann [Dr Patrick Turner] chat about all sorts and he's really interested in film. We joke that one day he'll be a director and give his old mum and dad a job!
"Little Alice is so cute too, she adores Max and he's great with her. Sometimes she'll do the most amazing take, she's a real pro. In one scene in this episode she suddenly 'got' the idea of filming. She said, 'Shhh', because she knew she had to be quiet and after a take she jumped up and down and shouting, 'I did it' and then she sat down again because she knew we'd have to do more takes. I'm excited to start filming series six in April to see what she'll be like by then."
Turners on tour
"Patrick is a workaholic so Shelagh is mindful of him looking after himself and thinks it would be lovely for the family to go on a camping holiday. It isn't the best holiday though because it starts to pour, so it's not ideal camping conditions!
"We filmed the camping scenes round the back of the Nonnatus House set where there is a steep hill with trees and grass but because I was in my holiday attire, it felt different and we were so excited; it really did seem like we'd gone on holiday, even though we were only five minutes down the road.
"I always have a right laugh with Stephen and for this he had to wear these shorts that his wife, Heidi Thomas [the show's creator], wrote into the script. He was very game and would walk into the make-up trailer like he was James Bond trying to be as sexy as possible knowing how ridiculous he looked!"
Get the latest updates, reviews and unmissable series to watch and more!
Thank you for signing up to Whattowatch. You will receive a verification email shortly.
There was a problem. Please refresh the page and try again.