Casualty's Cathy Shipton: Charlie gets a tattoo… and it doesn't say Duffy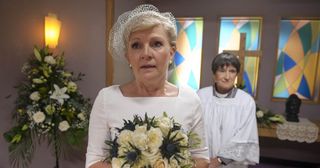 (Image credit: BBC / Alistair Heap)
Will they? Won't they? Cathy Shipton reveals the future looks shaky for Duffy and Charlie. After an intense stag night the groom's missing on their wedding day and the bride's considering calling the whole thing off…
Fans have longed for Charlie and Duffy to be more than just good friends for decades and this week it looks like they'll finally get married. But Cathy Shipton, who plays Duffy, reveals events take a terrible turn when Charlie (Derek Thompson) goes missing on his stag do…
There's chaos on Duffy and Charlie's big day. What can you reveal? "Charlie's off having his stag do and it seems he's gone AWOL. At one point it appears Charlie has actually rejected Duffy's phone call and that throws her in to a bit of a tailspin. But what Duffy doesn't know is that Charlie doesn't even have his own phone! It doesn't make Duffy a calm bride."
After three decades, surely they won't be derailed on their wedding day? "Yes after thirty years! The wedding Charlie planned at first was like an episode of Don't Tell the Bride! He wasn't running decisions by Duffy and she felt excluded. She's happier since Charlie booked a low-key wedding in the hospital chapel. But they've gone through all of that and now he's vanished…"
How do you think Duffy would react if she knew all the goings-on at Charlie's wild stag do? "Well, I've not seen the episode yet, but from what I gather Charlie gets in a bit deeper than he's comfortable with. He doesn't want to make waves as everything's organised for him and so he goes along with it. But Charlie finds himself in a situation where he's out of his depth. He even gets a tattoo… and it doesn't say 'Duffy'."
So, do you think the couple might not get married as a result? "I won't spoil it but they've a funny track record. She's thinking 'things are going wrong for us again'."
Don't you watch the episodes until they're on screen? "I quite like not seeing them until everyone else does. I won't even look at the monitor when we're shooting scenes unless I have to for technical reasons. I prefer to wait until it's all been stitched together."
Are you expecting a big reaction to this episode from fans? "Yes, because there's something real about these two characters coming together. I'm proud of this story. It shows you don't have to be pretty and 25; in your heart you can still be like a teenager."
We're expecting tears before the credits roll… "When they did the final edit, I was told there wasn't a dry eye in the room. People go mad for the show on Twitter. Of course, when I was first on Casualty no social media existed. But I never underestimate what the show means to fans. It was originally axed in the early days and came back due to 'people power'."
Whatever happens, at least you got to wear a gorgeous wedding dress… "I was worried it was going to be a big meringue but the designer got it just right. When I first saw it, I thought it was just perfect. And then the little fascinator was a nice extra touch to make it bridal. I didn't sit down in the dress all day for fear of creasing it. The things you do in the name of acting!"
Find out if Charlie manages to make his own wedding in this Saturday's Casualty on BBC1 at 8.25pm.
Read more about the episode here By Elaine Reilly & David Hollingsworth
Get the latest updates, reviews and unmissable series to watch and more!
Thank you for signing up to Whattowatch. You will receive a verification email shortly.
There was a problem. Please refresh the page and try again.