Ghostbusters | Film review - Kristen Wiig, Melissa McCarthy & co deliver a goofy girl-power reboot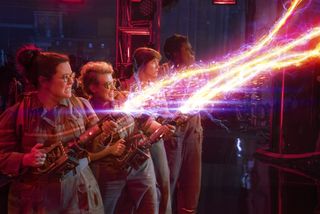 (Image credit: Hopper Stone, SMPSP)
Kristen Wiig, Melissa McCarthy, Kate McKinnon and Leslie Jones zap the ghosts - and the trolls - with this girl-power reboot of the beloved 1984 supernatural comedy.
Bridesmaids' co-stars Kristen Wiig and Melissa McCarthy join fellow Saturday Night Live alumni Kate McKinnon and Leslie Jones to give 1984's beloved supernatural comedy an enjoyably goofy, girl-power reboot. New York City's ghosts get vanquished, of course, and so do the Internet trolls who found the idea of an all-female Ghostbusters so objectionable the instant the project was announced.
Strapping on the proton packs of original stars Bill Murray, Dan Aykroyd, Harold Ramis and Ernie Hudson, the film's female quartet take broadly similar steps to their predecessors. As before, the plot kicks off with a university dismissal. Wiig's tightly buttoned-up university physicist, Erin Gilbert, loses her post at Columbia after her previous investigations into the paranormal come to light.
"Internet trolls"
The one to blame is her estranged childhood friend Abby Yates (McCarthy), a ghost buff who is still delving into the supernatural, now assisted by geeky tech genius Jillian Holtzmann (McKinnon), who is busily inventing all manner of ghost zapping and trapping gizmos. These get put to use when Erin teams up with the pair, initially reluctantly and then with gusto, as they set themselves up as supernatural exterminators.
The ghostbuster team is rounded out by the addition of subway worker Patty Tolan (Jones), plus beefy but dim male secretary Kevin (a hilarious Chris Hemsworth). And with a gathering storm of paranormal activity threatening to overwhelm New York, they are soon up to their necks in ectoplasmic slime.
This band is up to the task, however, and it isn't only the spooks that should be running scared. The misogynistic haters who poured their bile over the film get wittily dismissed when the team run into their own Internet trolls ("Ain't no bitches gonna hunt no ghosts").
"Good-humoured, warm-hearted fun"
That's not to say the new movie is perfect. It sags in places and some of the gags are pretty lame – the running joke in which Melissa McCarthy bellyaches about her wonton soup doesn't get any tastier with repetition. And there are times, particularly towards the end, when director Paul Feig, working from a script co-written by Katie Dippold, threatens to swamp his stars beneath the CGI effects.
Yet for the most part, this Ghostbusters really does work. There are affectionate nods to the original – such as the scene in which the team find they cannot afford to rent the iconic firehouse occupied by their male precursors – and more pointed jabs at cinematic and societal sexism. The overall mood, though, is one of good-humoured, warm-hearted fun. The stars gel beautifully, but it's relative unknown McKinnon (albeit a SNL stalwart) who steals the film with her joyously kooky, radiantly charismatic turn.
Certificate 12A. Runtime 116 mins. Director Paul Feig
https://www.youtube.com/watch?v=w3ugHP-yZXw
Get the latest updates, reviews and unmissable series to watch and more!
Thank you for signing up to Whattowatch. You will receive a verification email shortly.
There was a problem. Please refresh the page and try again.